Can You Change How Long Snoozing Is On An iPhone?
One of the most well-known smartphones in the tech industry is the iPhone. People love buying iPhones, but sometimes they need clarification with their work. When talking about changing how long the snooze time on iPhone alarms is, is it unchangeable, or do we not know how to change it?
iPhone alarm clocks have a distinctive sound and a set limit for the snooze time. The user cannot change how long the snooze is on the iPhone; it is set for 9 minutes and will always stay at 9 minutes, but there are a few alternatives that you can use to change how long the snooze time will be.
Use Multiple Alarms to Change How Long Snooze Time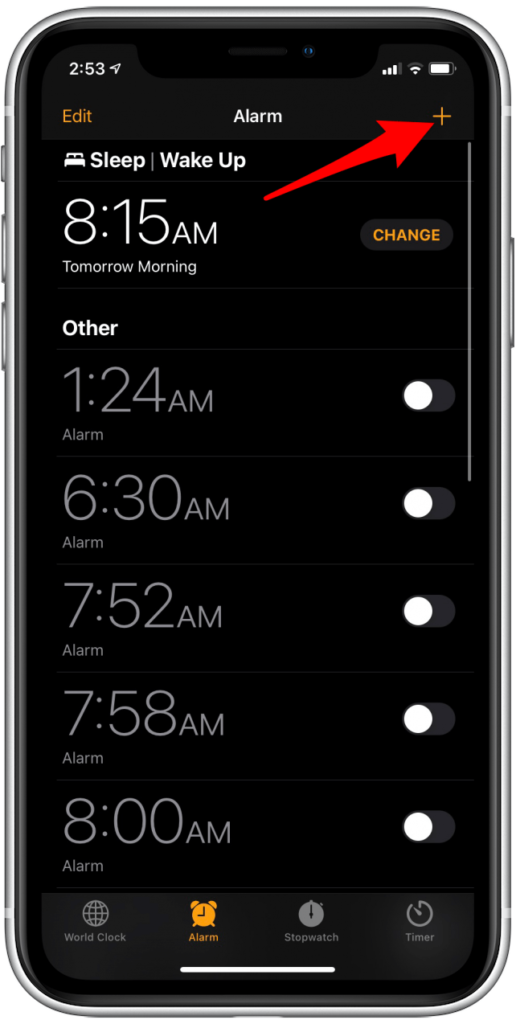 Since the iPhone alarm clock app doesn't allow you to change the nine-minute snooze period, one workaround is to set several alarms at your desired snooze intervals while disabling the snooze function to prevent alarms and snoozes from occurring simultaneously.
The process is simple. You have to set multiple alarms at varying times. To set up numerous alarms, follow the given steps.
Step 1
Find the clock app on your iPhone's home screen and open it.
Step 2
Once you have opened the clock app, tap on the alarm option in the tab below the screen.
Step 3
You will also see a plus sign on the screen's top right corner. Tap on it to add and create a new alarm.
Step 4
When you tap the add icon, a screen will appear with options of hours and minutes in 12 hrs. Format. Choose the time you want to set the alarm by sliding the numbers. You can also choose the AM or PM option.
Step 5
Once you have selected the time you want for the first alarm, tap on the snooze toggle and disable the alarm option. Ensure the toggle is grey to ensure the snooze is disabled.
Step 6
Once you have set the alarm, tap on the save button also in the top right corner present of the screen. Tapping will record the alarm.
Step 7
Once done with the first alarm, repeat the above process with the minute interval you want to keep as the snooze interval.
For example, if you want to keep the alarm interval at 5 minutes, The first alarm will sound at 6:30, the second at 6:35, and so on for as long as you want.
Use Third Party Alarm Clock Application to Change How Long the Snooze Will Be
The iPhone app store has a collection of third-party alarm clock HD apps that let you set custom snooze times for yourself. If you think setting multiple alarms to change how long the alarm will be is a hectic task, try this more straightforward approach. Here are some options you can also consider using as an alternative to the built-in iPhone clock app.
Alarmy
You can set a snooze time for as little as 1 minute with gradually increasing intervals of 3, 5, 10, 15, 30, 45, or 60 minutes with the alarm by Alarmy. Shaking, snapping pictures, doing mathematical tasks, playing brain games, and many other activities are numerous ways to get up in the morning.
The app repeats the time and alarm label continuously till you wake up. One of our favorites, this software was simple to use. Having a variety of options for waking up makes the morning exciting. Additional Alarmy apps provide opportunities to help you wake up in the morning, such as a monthly or lifetime subscription, including typing, walking, and even putting time pressure on you, with this feature.
Loud Alarm Clock
You may set the iPhone alarm
Snooze time for 2, 5, 9, 10, 15, or 30 minutes with this loud alarm app software, which claims to be the most audible and irritating. If you have difficulty getting up in the morning, you don't have to worry about the loud alarm clock. It is the loudest and will get you awake in no time.
Additionally, it has a variety of sounds that are guaranteed to wake you up, such as automobile or fire alarms and chalkboard nails. Set the alarm or activate voice commands by clicking the alarm symbol on the app's simple, user-friendly layout.
The essential functions are accessible, but you must pay extra for features like deleting ads, more alarm sounds, and sometimes even alternative character voices.
Wake Me Up
Another excellent app for waking up is the Wake Me Up application. This Walk Me Up! app might be more helpful if you have trouble getting out of bed and frequently oversleep or press the alarm button. You can change how long you can snooze and how many times you can snooze with this app. You must turn the alarm off to silence it, or it will keep ringing.
How to Use Third-Party Alarm Clock Application
To use third-party alarm clock apps, go to the app store on your home screen. Tap the search icon and look for the app you want to download. When you find the app you want, tap Install and wait a few minutes for it to be added to your iPhone. When the app is installed on your iPhone, you can open the clock app from your home screen and set up your alarms and other settings.
Summing Up
I hope this article clarifies your question about whether you can change the default snooze time. You may also be unable to change the default application alarm time, but you can always find ways to defeat the system. Use the above-given method to beat the system of iPhone clocks.
Frequently Asked Questions
Why is the iPhone snoozing time exactly 9 minutes?
The standard snooze period on most alarm clocks is nine minutes. This custom originated as a result of mechanical clocks' physical gear restrictions.
The 9-minute alarm time was created because mechanical clocks can't sleep for exactly 10 minutes, even though 10 minutes would have been the ideal amount of time (and a pretty round number). The custom is still alive today thanks to the Clock app for iPhone.
How many times can a person hit snooze on an IPhone?
iPhones don't have any restrictions on hitting the snooze button. You can tap on the snooze option multiple times before you get up.
Can you change the 9-minute snooze on iPhone?
You can't change the snooze of an alarm in the Clock app on your iPhone – it's always 9 minutes. However, you can work around it by setting alarms at different intervals. You can also use a third-party alarm app that allows you to customize the snooze time
Why does snooze sleep feels so good?
The snooze button likely feels tempting because of sleep inertia. Sleep inertia is a groggy feeling you might feel immediately after waking up. During sleep inertia, you are still not fully alert, and you want to go back to sleep rather than get out of bed and begin your day.