How to IOS Update on an iPhone
Once a year, Apple releases a significant upgrade to the latest version of iOS, the operating software that powers all iPhones, adding new features and adjusting the user interface. Additionally, several minor point updates contain repairs and security patches; they are also crucial. In this post, we go over everything you need to update your iPhone to the latest software (iOS 16), including what to do if you encounter problems such as running out of space or being unable to connect to Wi-Fi.
Check Whether Your iPhone has The Latest IOS Update Available
Not every working iPhone means it will have the latest update to download iOS 16. Many old phones cannot run and handle the latest IOS Update. Here is a list of iPhones that can download and manage the newest software version.
iPhone 8 series, including 8 and 8 plus
iPhone X series, including XR, XS, and XS Max
iPhone 11 series, including 11, 11 Pro, and 11 Pro Max
iPhone SE series, including SE 2020 and SE 2022
iPhone 12 series, including 12mini, 12, 12 Pro, and 12 Pro Max
iPhone 13 series, including 13 mini, 13 Pro, and 13 Pro Max
Get Insight into the Detailed Procedure to IOS Update iPhone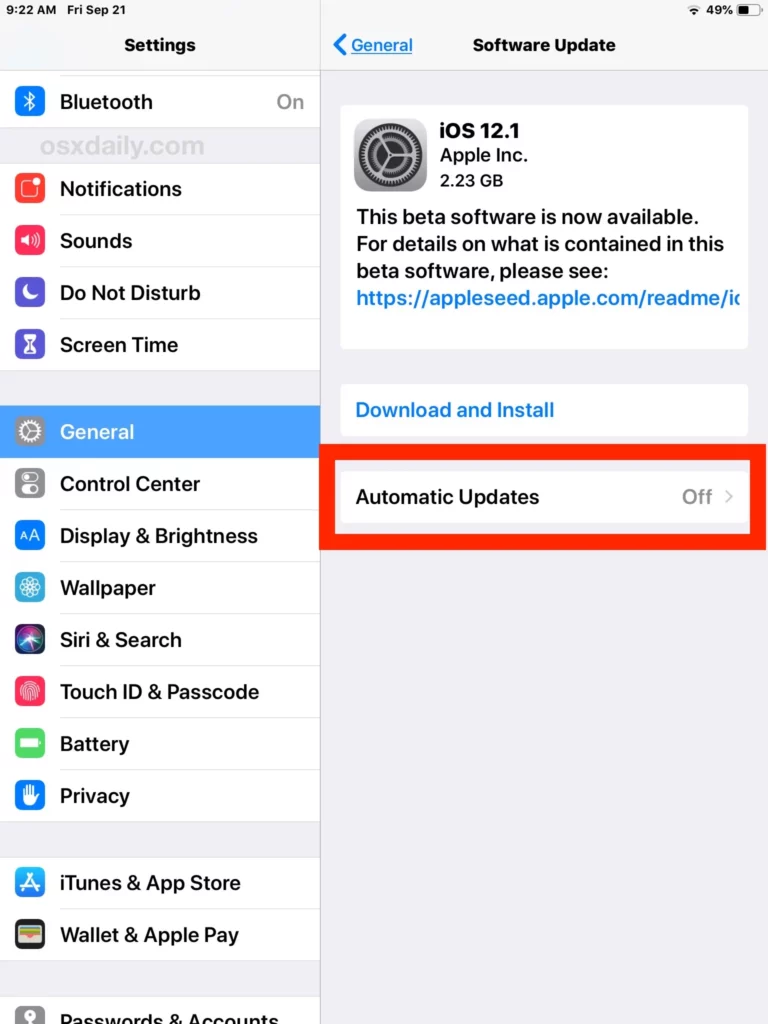 The very first thing you require to do is,
Get Your iPhone Ready for IOS Update
Before you IOS update your iPhone, it is essential to get it updated and ready.
Step 1
Back up your iPhone. iCloud, the Mac's Finder, or iTunes on a computer can all be used for this. We can't emphasize this step's important enough because previous users have lost data during updates, such as outdated SMS messages and images.
Step 2
Delete some files from your iPhone. For the upgrade, you'll need to have a lot of space accessible. If your phone doesn't have at least 20 GB free, uninstall certain apps to free up space. You can reinstall the deleted apps later because you already own them linked to your account. IOS also offers to temporarily erase some files if you don't have enough space.
Step 3
If your iPhone's battery is low, plug your iPhone into a power source so that the latest version of iOS can be installed.
Ensure you're downloading through Wi-Fi rather than cellular, as doing so could result in your data plan running out. Verify the network's safety as well. It is not advised to download and installs while connected to a public network like a hotel or college Wi-Fi.
Method 1: Follow These Steps to IOS Update your iPhone
Here are the simple steps to IOS update your iPhone to the latest IOS version.
Step 1
The first thing to do is open the setting on your phone. Go to general and tap on the software update option to access the software update.
If no new updates are available, your phone will tell you that iOS is up-to-date.
Step 2
You can refresh to check for updates. The updates option will pop up on the screen. Tap download and install to continue the update process.
Step 3
You must put in your passcode to download the iOS update. Next, you'll have to agree to the terms and conditions.
Step 4
The download will start to process. Make sure not to turn off your phone or do anything to it while the updates are being downloaded. Carry on with other tasks. Once the download is done, your phone will notify you.
Step 5
Tap on the notification, which will bring you to the downloaded updates page. You will see the "Install" option; tap on it.
Step 6
The installation process may take a while. Make sure your device is fully charged or plugged in with the charger. Once the device installs the update, your phone will restart, and your updates will be done!
Method 2: How to update iPhone Without Wi-Fi
What should you do if you genuinely want to update your iOS but don't currently have access to Wi-Fi? Or perhaps you do, but you're unsure if you can trust it because it's a hotel or restaurant's Wi-Fi. Using cellular data or mobile data for iOS updates may be an option on your mind. But if you don't have any other phone to use as a hotspot provider, here's what you can do.
Observe these steps to update the iPhone over cellular data or mobile data:
Step 1
From your iPhone, establish a hotspot. In this manner, you can connect to the web on your Mac using the data connection from your iPhone.
Step 2
Now connect to your iPhone and launch iTunes.
Step 3
Select the iPhone symbol in iTunes by clicking on it.
Step 4
Then, select Check for IOS Updates.
Step 5
Go through the available download options and set up the most recent iOS release.
Step 6
Using your iPhone's data connection, your Mac will download the most recent version of iOS. After that, you can upgrade to iOS via the Finder option.
If you are worried about the data usage limit Apple used to have, which limited the amount of data you could download through a mobile data connection to 200 MB. You can now download apps of any size thanks to iOS 13's lifting of this restriction. Access App Downloads by going to Settings > iTunes & App Store. Select Always Allow, Always Ask, or Ask If Over 200 MB.
In The End
I hope this article makes it clear to you how to IOS update your iPhone. Remember that if your phone is low on battery and memory, you cannot download the updates.
Frequently Asked Questions
Will Updating My iPhone delete My Data?
If you have limited storage, you might be concerned that installing the new iPhone update would cause you to lose part of your data. Given that this has already occurred, it makes sense that some individuals be worried. Your data should remain intact after the iOS upgrade has been installed; if not, you should still have a backup.
I Am Unable to Update My iPhone. Why?
You might wonder why the iOS update isn't available on your iPhone. These may be the reasons.
The most recent iOS version might not be compatible with your phone. Learn which iPhones are compatible with iOS 16.
Perhaps your Wi-Fi connection is down. You require Wi-Fi, as we mentioned above, although there are workarounds.
Your battery could be dying. To upgrade, Apple asks that your iPhone be plugged in or the battery level is at or above a particular point.
Why is my phone not updating to iOS 15?
If your iPhone doesn't update 15, force restarting it may solve the problem. You should understand that different models of iPhone use varying methods to force restart. So, you should check your iPhone model to find the right method to force restart it. You must press the "Volume Up" button and release it quickly.
How do I manually update my iPhone iOS?
At any time, you can check for and install software updates. Go to Settings > General > Software Update. The screen shows the currently installed version of iOS and whether an update is available.