How To Factory Reset iPhone?
The technique of factory resetting the iPhone is quite popular among iOS users. It is a simple and common way to fix a problem you've had with your iOS device for a while. A firmware package in iPhone is an IPSW file that includes all of the components required to operate iOS, which is the primary operating system. You can use Siri on your iPhone to easily control the volume down button.
When you reset your iPhone to factory settings, a number of things happen, including the loss of all data and settings. Most people don't know this important fact, so it's best to back up the device.
You can also now pick up where you left off after the data has been wiped. We may now discuss how to factory reset an iPhone or iPod touch, which is relatively easy.
If you know the device's passcode, you can access the settings app; if you don't,, you must utilize the iTunes and iCloud apps.
How To Factory Reset An iPhone?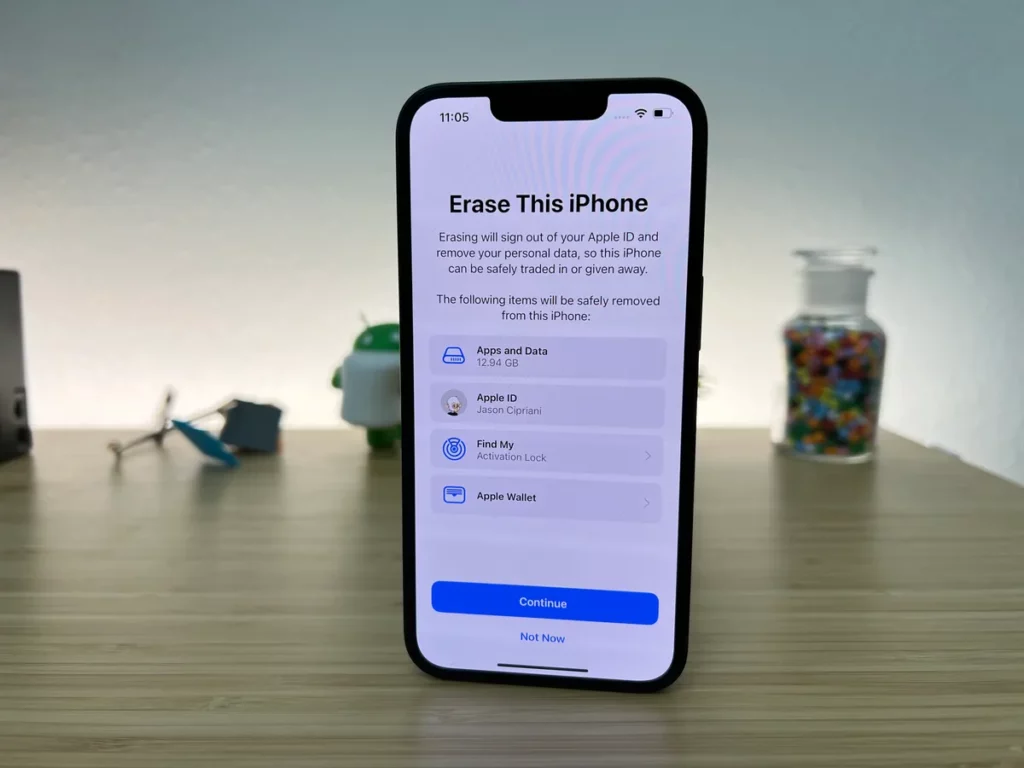 Method 1 – Reset the iPhone Factory Settings
You must know your Apple ID password to factory reset your iPhone. The methods are straightforward: follow them to reset your iPhone by going to Settings on your phone;
Step 1
Go to Settings on your iPhone by opening it.
Step 2
Tap "Reset" after selecting "General" from the list of options.
Step 3
Erase all content and settings in a menu item in Reset; select it.
Your device's password must be entered, so enter it and tap "Erase iPhone" to complete the request. Please back up your iPhone in advance because it will now reset it to factory settings and wipe all your data.
Method 2 – Use iTunes To Restore the iPhone To Its Factory Settings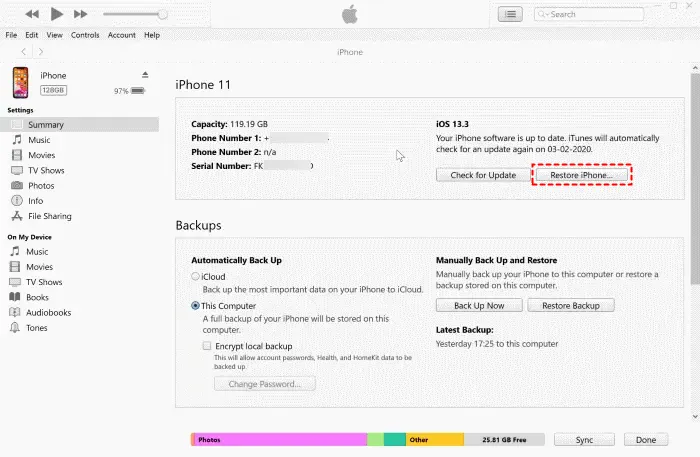 You can also use the iTunes app to erase iPhone data by factory resetting your iPhone. You can carry out this straightforward process on your iPhone even if you don't have the passcode. However, there is a catch. To continue, the device must be linked to iTunes; however, it won't connect now if you haven't done so.
Additionally, before you restore your smartphone, find your iPhone needs to be turned off. If you can connect the device, you will be able to factory reset your device using iTunes. Here's how to restore your iPhone settings to default;
Step 1
Launch iTunes after you connect your iPhone to your computer.
Step 2
Go to the summary on your device of choice.
Step 3
Select "Restore iPhone" from the app's primary window. The software will take a few minutes to finish the process.
Step 4
After that, you will get a dialogue box; click "Restore" on the dialogue box.
Step 5
You can proceed after clicking "Agree" on that.
You must now wait a little while for iTunes to finish the process. When it's finished, you'll discover that all of the data on your device has been deleted.
Method 3 – iCloud-Based Factory Reset iPhone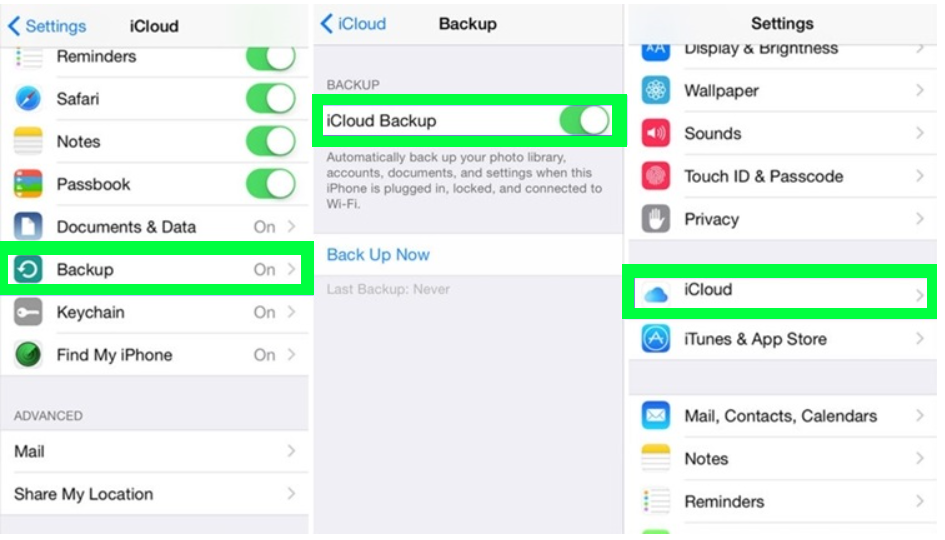 Suppose you don't know how to reset an iPhone to factory settings. In that case, you should also be aware that in addition to the methods outlined above, you can efficiently perform a factory reset on an iPhone using the iCloud app.
The "Find My iPhone" feature of the iCloud app is used to delete the device remotely, but you must follow the same procedure to activate the feature while the device is locked. So, if you're wondering how to factory reset an iPhone, adhere to the guidelines below;
Step 1
To begin with, if you want to erase your iPhone using iCloud remotely, you will require another iOS device and enter your Apple ID to erase your iPhone, or you may use your PC.
Step 2
Then, from such a device, visit iCloud.Com and log into your iCloud account with your unique Apple ID.
Step 3
Next, select "Find My iPhone" from the iCloud menu, then "All Devices."
Step 4
Select your device from a drop-down menu before choosing the "Erase iPhone" option.
The device will be erased after this process.
What Do The Other Reset Choices Mean?
It can be challenging to decide which of the many alternatives iOS 15 gives when resetting your iPhone. Although a short factory reset is typically what you want to accomplish, this description of the other alternatives will help you decide which reset iResett is for your requirements.
Reset All Setting
This command restores your iPhone's settings to their factory defaults, including your network settings and personal preferences. Since only your system settings are reset, this is not a nuclear option. Your programs, data, documents, and files are kept exactly as they were.
Reset Network Configuration
You may occasionally only need to update your network settings to establish a better connection. By selecting this option, you clear your device's temporary files and reset your network settings. It's excellent for people whose Wi-Fi connections are acting up. To wake or sleep your iPhone, press and hold the side button.
Location & Privacy Reset
Frequently, when tinkering with your settings, you can unintentionally worsen things. Consider performing this Reset iReset to restore your phone's default privacy and location settings. There is also no need to be concerned about the side buttons to wake or sleep your iPhone.
Finally
The best methods for factory resetting your iPhone X or other iPhone model are those listed above. If you know the device passcode, you can reset the device by going to the settings on your phone or tablet.
However, you must use alternative techniques to reset the device if you have forgotten the passcode. This list includes using the iTunes and iCloud apps. These programs are beneficial, but you must meet the requirements to access their services.
FAQs
Does The Recovery Mode Of The iPhone Erase Everything?
All the data on your phone will be erased if you attempt to restore your iPhone in the recovery mode using iTunes. After that, you can either configure your iPhone as a brand-new device or restore it from a backup.
Does an iPhone's Complete Factory Reset Erase Everything?
A factory reset, also known as a hard reset, erases your iPhone's data and settings. Everything on your iOS device gets erased, including your pictures, movies, contacts, call logs, passwords, messages, browser history, calendar, chat history, notes, and loaded apps.
How do I reset my iPhone without the passcode?
How to reset your iPhone using iTunes
Plug your phone into your computer.
Select "summary" from the menu on the left.
Select "Restore iPhone."
Confirm your decision and wait for the process to finish.
Can you factory reset a locked phone?
Switch your phone off. Press the Volume Down and Up buttons and the power key to enter the Android recovery menu. Press the Volume down button to select the "Wipe data/factory reset option and press the Power button to proceed. Select "Yes."
Read Also: How to change the iCloud Apple ID on iPhone Without a Password?