How to Check Battery Health On iPhone?
Is it possible that your iPhone or iPad battery isn't lasting as long as it should or that your iPhone is in poor condition? This can happen if you use a new or updated gadget more frequently than anticipated or have an older device that doesn't hold a charge. One of the most common questions is about checking the battery!
A Built-In Function of Battery Health In iPhone!
A built-in function from Apple lets you keep tabs on your phone's battery life. You can check the battery health of your iPhone, determine which apps and activities are the most significant power hogs, and turn on Low Power Mode to lessen some background activity. Because the health of most iPhones is significantly degraded, the device can even help you decide whether you need a new battery or whether you can extend the life of your current one.
Third-Party Apps
If you're interested in more details, a few third-party battery apps you can find in the Apple Store, such as Clean Battery, Zen Battery, Battery Doctor – Battery Saver, and Battery HD+, will show you your battery charge and battery health in iPhone other statistics as well as, in some cases. Optimized battery charging gives you advice on how to make your iPhone s battery last longer between charges.
Make sure you can monitor your battery charge on the home screen first
Swipe down from the top right of the screen on an iPhone or later to bring up the Control Center
The full display of the battery's charge level as a percentage
Battery Charge Indicator
The battery charge indicator should automatically appear at the top right on older iPhones and iPads. If not, select battery under settings. The battery percentage switch should be turned on.
How to Check the Battery Health In An iPhone?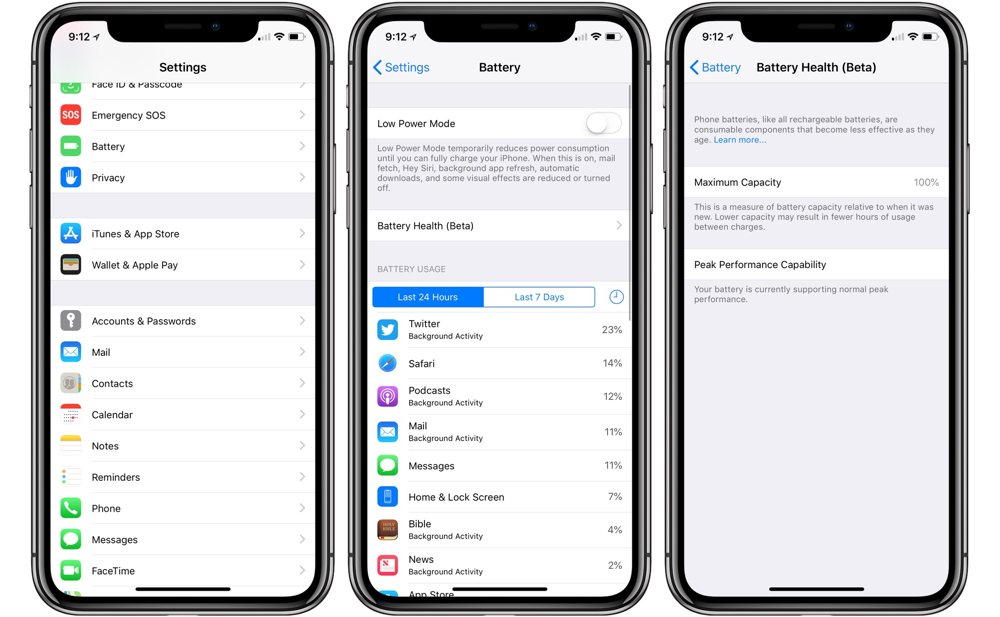 Open settings on your iPhone from the home screen
This app typically appears on the first page of apps and has a cogwheel-like symbol.
Here, you may access a graph showing how much your battery consumed over the previous 24 or 10 hours.
You should be able to determine which applications use the most battery life from this.
Click the "Battery Health" and battery life.
A button that is placed above the chart if you want further details
The maximum capacity of your iPhone's battery is displayed here.
Battery health results come from being as near to 100% as possible, yet it's normal for this to decline with time gradually
Battery Recommendations
The battery panel might also advise how to extend the capacity and life of your battery health in your iPhone.
For instance, it can advise lowering the screen brightness slightly if it is set to high to save battery, supporting average peak performance.
By selecting settings
Display & brightness
Then dragging the slider, you may change the screen's brightness.
To access the control center more quickly, swipe up or down
Then, lightly press the brightness icon and swipe your finger up or down
Graphs and Numbers for Battery Life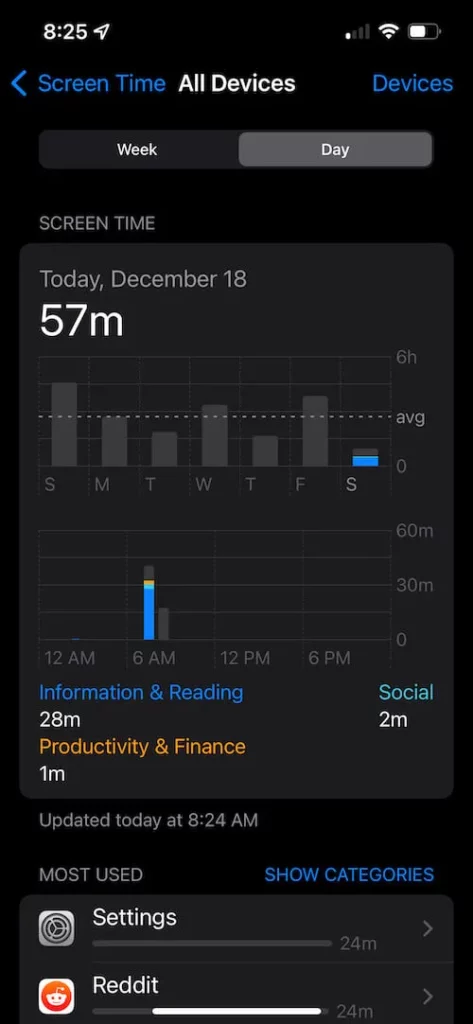 To help you better understand the battery capacity, the battery screen displays a variety of data. The last charge level shows the last time your device was plugged into a charger and the amount of battery left when you unplugged it.
Battery Charge History
The graph below shows your device's 24-hour battery charge history and current battery level. The darker green lines on this graph represent the times your device was plugged into a charger, and each line here represents 15 minutes. The following diagram shows activity, or when and how long your device was active throughout intervals of an hour.
Additionally, the average amount of time that your screen is on and off is shown in this section. The figures can show how frequently you use your phone.
Ways to Check Battery Health In iPhone
1. Check the iPhone Or Ipas' Battery Settings
Going right to Settings > Battery > Battery Status on your device is the quickest and most straightforward way to check the iPhone battery's health. The iPhone's current maximum capacity is displayed here. A warning will also be displayed if your iPhone battery needs serviced. If you don't see anything, your battery is functioning correctly.
2. Use the Console App to Check the Battery's Health
The Console program, which comes pre-installed on all Macs, will provide you with more information on the condition of your iPhone or iPad battery.
Open the console, connect your iPhone to your computer using a lightning cable, and input battery health into the search bar (unlock your iPhone if that search doesn't show up anything).
3. With Coconut battery, you Can Learn More about Battery Health
The free coconut Battery app is an excellent choice for anyone who wants to check the iPhone battery iOS smartphone. Coconut Battery, generally used for Macs, can also give information about the battery currently supporting iOS devices.
4. The Benchmark for Battery Tests
Contact Apple and ask them to do a diagnostic on your smartphone for the most thorough and accurate battery status information possible. You can schedule a visit at an Apple Store or contact Apple's online Support.
Viewing Battery Life Differently
These graphs can be seen in two different time frames. The most recent 24 hours are displayed by default, but the previous ten days are also readily accessible. When you switch to this view, the data is organized by day.
Care for Your Battery
Even the most conscientious iPhone users will ultimately notice a decrease in battery life. Chemical aging, which affects all lithium-ion batteries through regular use, is the process. Modern hardware makes it inevitable that the battery will degrade over time. It would help if you examined the condition of your MacBook battery up to its maximum capacity.
You can, however, take some actions to halt its progression. We're not proposing that you only use your phone once daily; these aren't precisely intrusive measures, either. The minor actions listed below will help your iPhone battery's health in iPhone function at its best for extended periods.
Reduce the screen's brightness
Use Wi-Fi when possible
Turn on Optimized Battery Charging
Keep your iPhone updated
Turn off non-essential notifications
Turn on "Low Power Mode"
Bottom Line!
It is not difficult to check the battery life of your iPhone. The above-mentioned steps will help you narrow your iPhone's battery health.
FAQs
Is A Decrease In My Maximum Capacity Typical?
Yes, as long as your iPhone has been used commonly, its battery should keep up to 80% of its initial capacity after 500 complete charges. And check the charge cycles. After a year or two, it will likely go from 100% to 0%.
Why Does Battery Health Say That Battery Management Has Been Applied?
After a certain point, iOS will take power management techniques to relieve some of the pressure on your iPhone's battery. The functionality of your iPhone might be noticed.
Can I get my iPhone Battery Health back to 100?
There's only one thing that you can do to keep your iPhone's battery health at 100%. Stop using your iPhone. Yup, the only way to keep your iPhone's battery at 100% is to stop using it and charging it.
Is it OK to leave your iPhone charging all night?
As you can see, leaving your iPhone to charge overnight is not a good idea. Not only does it reduce the battery's lifespan, but it can also cause the battery to overheat. The battery might catch fire leading to bodily injuries.
Read Also: How to Change a Sim Card on an iPhone?