How to Change Featured Photos on iPhone?
Featured photos are one of the most noticeable features on the iPhone these days. A widget in Apple Photos presents a few rotating "featured photos" from your camera roll photo library. These photos can be seen on your phone. You do not get to choose the photos. The system randomly selects them. But if you don't like a few of them, then you can delete some of them. If you need to learn how to remove these photos, then here is a guide on how you can do so.
Change Featured Photos on iPhone iOS 14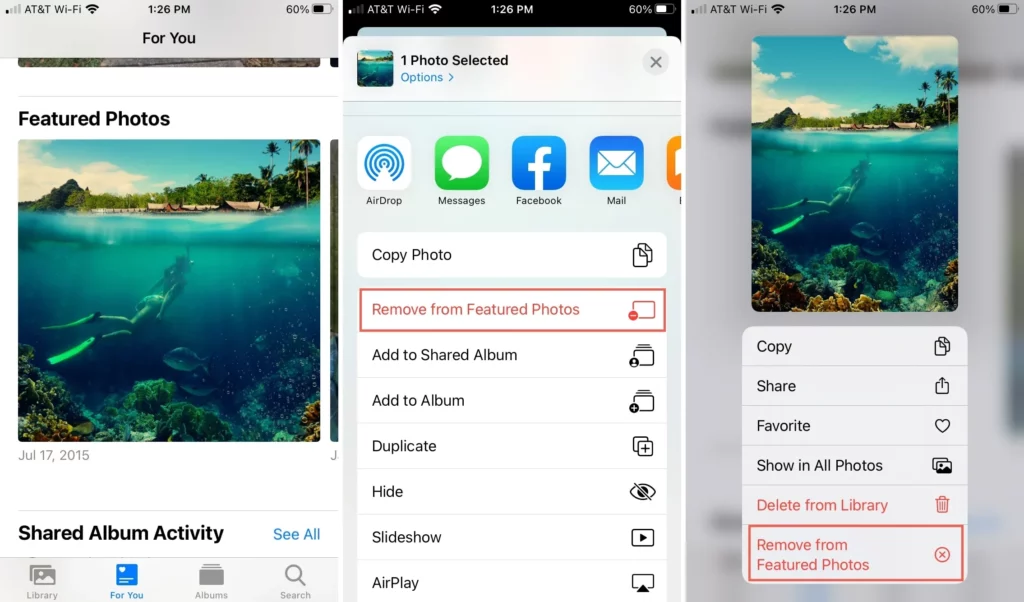 The featured photos widget in iOS 14 displays random pictures and memories, making it "featured photos." The recognition algorithm keeps working in the background, and its role is to show you some of the images you might like. But, sometimes, it is possible that you would like to avoid the photos displayed. In such circumstances, you can make some changes, as it allows you to remove them from featured images.
Unfortunately, you cannot add widget memories or featured photos. The recognition algorithm chooses these photos. However, you can occasionally remove disliked photos from your screen. If you delete those photos, you won't see them in the featured photos again. Here are the details and a step-by-step guide on how you can do so.
The first thing you also need to do is tap the photos widget in ios 14.
It will open the photos.
You have to tap the More icon of the share button. Now, tap Remove from Featured Photos.
You can also long press on the photo to view what other options are available for the photo.
If a memory keeps showing on the widget, tap the More icon from the top right section. Now, you have to click on Suggest fewer memories.
By doing so, you will not see unwanted photos and memories in the widget.
Change Featured Photos on iOS 15
As mentioned, you can't add photos to an iPhone's automatically created featured photos. You can easily remove photos you don't want to be shown on your iPhone home screen. Earlier, the procedure discussed was for iOS 14. The following process is for iOS 15 and later.
First of all, you also have to open the Photos app.
Now, you have to click on the For You tab.
Afterward, you must select a mix of photos on your iPhone under the memories section.
You must click or tap on any screen section to see further options.
Now, you have to tap the more icon.
Now, Tap Manage Photos.
Tap to deselect any photos you don't want to include in the Memory Mix video.
To keep the changes saved, remember to click done.
How to Share, Find, and Make a Featured Photo Favorite
Here are the details on making your featured photos your favorite, share them, and then find them. The steps are as follows. But you indeed have to make sure that you follow all the steps.
Firstly, you have to open the Photos app.
Then you have to tap the For You tab.
You'll find Featured Photos under the Memories section.
Now, you have to swipe to the left to scroll through your Featured Photos, and then you will see all the pictures that the Photos app has curated for you that day.
Now you can tap any photo you choose when you have found the one.
Here, you will see the options: Share, Favorite, Edit, and Trash.
You'll be taken to your sharing options by clicking on the share icon, including AirDrop, Messages, Mail, and social media.
You must hit the heart button to make a photo one of your favorites.
Click the option of Edit to open editing options for your picture.
Now, you will see all the editing options for your photo. Some of them are
Filters
Cropping
Rotating
Reasons to Change Featured Photos on iPhone.
There are also many reasons why you need to remove the featured photos widget in iOS 14. Here are some of them.
As mentioned earlier, the photos cannot be changed, and you cannot add images of your choice. All you can do is remove the pictures that you don't like.
So, the pictures are selected randomly; it is possible that you don't like some of them, and sometimes, people want to avoid some of the private photos being displayed on the widgets. That is why most people like to remove those kinds of photos that they don't like from the widgets of featured photos.
Conclusion
Featured Photos on iPhones are enjoyable for many people, and people enjoy them a lot because they remind them of various things and events from time to time. You will see many throwbacks and memories if this feature is turned on. But sometimes, there can be some pictures you don't want to show on the lock screen of your iPhone.
If so, is this the case? You can remove that photo from the "featured photos" selection. The process and steps to remove an image from it are not difficult and can be completed quickly. The featured photos have been mentioned above with details.
Frequently Asked Questions
Here are also some of the frequently asked questions.
Can I add pictures of my choice to the featured photos on my iPhone?
It still needs to be possible to add photos of your choice and liking in the featured pictures because they are randomly selected, and you cannot choose them.
Can I delete some unwanted photos from the featured images?
Yes, removing some photos you don't like from the featured images is possible. But you cannot remove all of them.
Can I cancel the whole featured photos section?
How does iPhone decide on featured Photos?
Apple's ‌Photos‌ widget lets you have a few rotating "featured photos" from your photo library shown off on your screen. You can't choose to display a specific photo or a selection of particular photos, so the featured photos are chosen randomly.