What Is the Best Way to Change Your Name on Facebook On An iPhone?
Facebook gives users the option to alter their usernames, just like the majority of social networking services. You could select a different name on your Facebook account if you made a mistake the first time. Almost everyone with internet access uses Facebook on their iPhone, one of the most popular social networking platforms. To make finding you easier, include your full name in your username. What distinguishes you from other users with the same name as you—your unique username?
You might have noticed that if you've used Facebook for a while, only some people use their real names. They may have previously used their real name before changing it, or they may have never done so and never maintained their true identity on Facebook.
In this article, we'll teach you how to rapidly alter your Facebook app profile name on an iPhone and modify your username. Name and username are two distinct concepts. The details are as follows.
About Facebook
The world's largest and most well-known social media network, Facebook, is an excellent place for businesses to establish their social media strategy. With Facebook, you can reach the broadest audience and offer the most comprehensive business solutions on social networks.
Your online brand can be developed, real relationships can be made with clients and future workers, and overall productivity can be increased with Facebook's business tools.
According to Statista, no other social network can provide your business with a comparable level of potential exposure as Facebook, which has over 2.9 billion monthly members. When compared to other platforms.
Facebook offers the most integration options, such as follow buttons, account logins, and photo sharing, as it was the first and most extensive social media network to experience popular success. These resources can direct clients to your company's website and other online materials you want to emphasize.
What Rules Govern Name Changes On Facebook?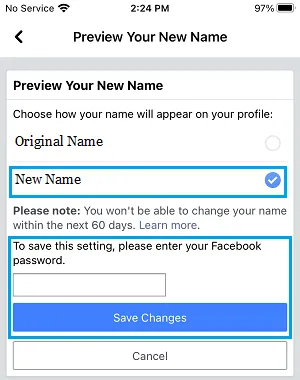 There are restrictions on what kinds of names you can use on Facebook on iPhone, even though you are not required to give your complete legal name.
Facebook prefers that people use their real names while posting. Names on Facebook cannot contain the following:
Punctuation, symbols, digits, unusual capitalization, repeating letters
Characters with elements from various languages
Any titles whatsoever (whether professional, religious, or something else)
Terms that are not under Facebooks community standards
Words or phrases that refer to groups of people rather than individuals. Facebook pages are for businesses, groups, and ideas, whereas profiles are for people.
If your nickname is a version of your real name, Facebook will accept it for your first or middle name (like Abby instead of Abigail). Facebook prohibits impersonating other users and considers it against their Community Standards.
If You Don't Follow The Rules, What Will Happen?
Name changes may be more complex than they seem. Even so, when a claim of infringement is made, the social network asks for proof of the person's name and identity. If this happens, you won't be able to get into your Facebook account until you show proof of who you are, like a passport or driver's license, and the process of verifying your identity is done.
The Way to Change Name on Facebook
Once every 60 days, you can alter your name on Facebook using a desktop browser or the Facebook mobile app. Here is the procedure.
Name Changing of Facebook On iPhone
Step 1
Open Facebook and click the bottom-right button with three stacked horizontal lines.
Step 2
Select tap settings & privacy" under the settings menu.
Step 3
"Personal and account information" should be chosen.
Step 4
Choose to enter your "Name."
Step 5
Now Click "Review Change" after ingoing your new original name.
Step 6
To save changes, enter your Facebook password
On a computer, how to update your Facebook name.
In the top right corner, select the drop-down tab symbol.
After the "Settings & Privacy" set menu, select "Settings."
Put your new name in the name area after clicking "Name."
To review a change, click.
Save your new name
On an Android device, how can you alter your Facebook name?
Open the Android app, then tap the icon with three vertical lines piled on each other.
If you choose "Personal and account information," you will be asked to provide some information.
To save your changes, you will need to enter your password.
Using your iPhone or PC, follow these steps to alter your name on Facebook. The procedures are essentially identical for Android.
An Alternative to Renaming Your Facebook Account

The steps below should be followed if you only want your nickname or another name to be used to identify you on Facebook:
Select the three lines to symbol in the lower right corner of the Facebook app.
Select Settings > Personal Information under Settings & Privacy.
Touch Name.
Then tap. Add your birth name, nickname, etc.
Select a name with a title, a nickname, a maiden name, an alternate spelling, a married name, a father's name, a birth name, etc.
Fill in this name.
You can decide whether or not to display this name at the top of your Facebook profile.
Then click Save.
Summing Up
Even though changing your Facebook username is possible and easy, we don't recommend it unless you have to. If you initially made a mistake, you probably wish to correct it. Altering your display name, however, is entirely acceptable. You may only change your name once every 60 days, so remember.
Frequently Ask Questions
Does Facebook notify users about name changes?
No, when you change your name, Facebook won't notify you. Unfortunately, there is no method to inform your friends that the name of your account has changed, which is disappointing. The only way they could learn is by looking at the new name on the tag in a photo you are tagged in.
How long does it take a name change on Facebook to become effective?
The Confirm Name Change Request box states that Facebook can authorize name changes in up to three days. To make their decision, they may also ask for further details.
Should you log on to Facebook using your actual name?
False names are not permitted on Facebook accounts. Use your actual name at all times. Only if you legally change your name, such as when you get married, can you change it after your account has been created. The deliberate impersonation of another person on Facebook is a particularly egregious breach of Facebook policies.
Is the Facebook name the same as the username?
Usernames and user IDs are part of your public profile, which can help your friends find you on Facebook. A username is your profile or page's web address (example: Facebook.com/yourname). Your username is often a variation of your name, like adam, Jon, and ben10.