How to Change the Default Web Browser On iPhone?
If you recently switched from an Android device to an iPhone and are not accustomed to the Safari app, you can alter it. As you know, Apple makes Safari the default web browser on the iPhone and all its devices, which might mean a different browsing experience for Chrome users. So, there are a few ways to switch Safari from being the default browser on your iPhone to any other browser.
Apple doesn't let you change the default apps unless you install a different third-party app. Install the browser you wish to use to change the default one.
About Changing the Default Web Browser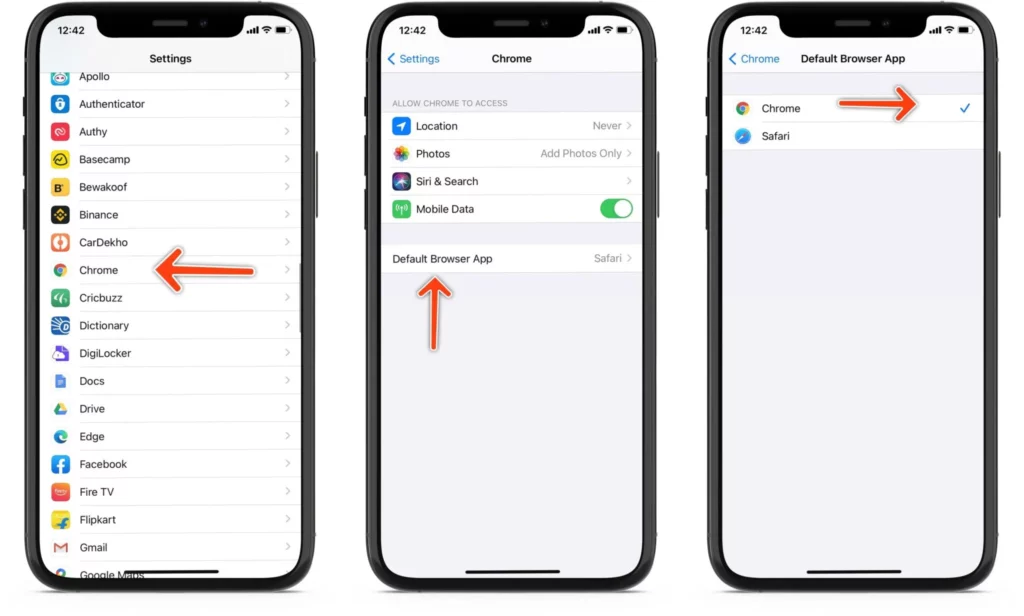 The ability to set the default web browser and email app was made official during the virtual WWDC 2020 keynote. With the general release of iOS 14 and iPad 14 on September 16, 2020, the new capability will be accessible to all users.
Your new default iOS web browser can only be one that Apple has approved. The first program to offer support for that feature was google chrome. Since then, several iOS browsers have made this feature available.
Chrome on Any Device You Own
Your passwords, credit card information, autofill data, and bookmarks will all be readily available on all your devices when Chrome is synced across your computer, phone, and tablet. At the same time, you are logged into your Google account. If you need to make a quick purchase while you're out and about, there's no need to pull out your credit card or type your address in.
Additionally, Chrome makes moving between devices a breeze. You can send a tab to another signed-in device with just one click from the Chrome search bar for desktop or Chrome's sharing menu for iOS. You can quickly access your most recent tabs and open a recipe you find on your computer on your phone.
Way to Change the Default Web Browser On iPhone and iPad
Before you go any further, make sure you've downloaded your preferred third-party web browser from the App Store. This could be Chrome or Firefox. If you don't have any third-party web browsers installed on the device, you cannot change the default web browser on your iPhone. If your favorite iPhone browser doesn't already have this feature, you must contact the app developer and ask about adding it.
Follow these steps to change the default web browser on the iPhone and iPad:
Step 1
On an iPhone, iPod, or iPad running iOS 14 or later, Go to the home screen and then to Settings.
Step 2
After scrolling to discover it, tap your preferred web browser, Chrome or Firefox.
Step 3
Tap the default browser app now.
Step 4
Tap it to make one of the listed web browsers your new default.
For instance, select "Chrome" to make Chrome the default web browser for iOS. The browser should have a checkbox next to it to indicate that it is the default. The developer might not support it if you don't see the choice to make a third-party web browser, safari, as the default.
Now, the chosen third-party web browser is launched instead of launching Apple's Safari when you press a link on the internet or in any iPhone or iPad app, such as Mail, Spark, Instagram, and so forth. Please note that the integrated Safari View Controller in some apps that utilize it, such as Twitter, Reeder, and Slack, is unaffected by your newly chosen default web browser.
For example, if you click on a link in Twitter for iOS, no matter what your default web browser is, it will open a Safari web view right inside the app. However, tap the Safari icon in any embedded Safari Web Controller window to open the link elsewhere.
Way to Eliminate a Web Browser as the Default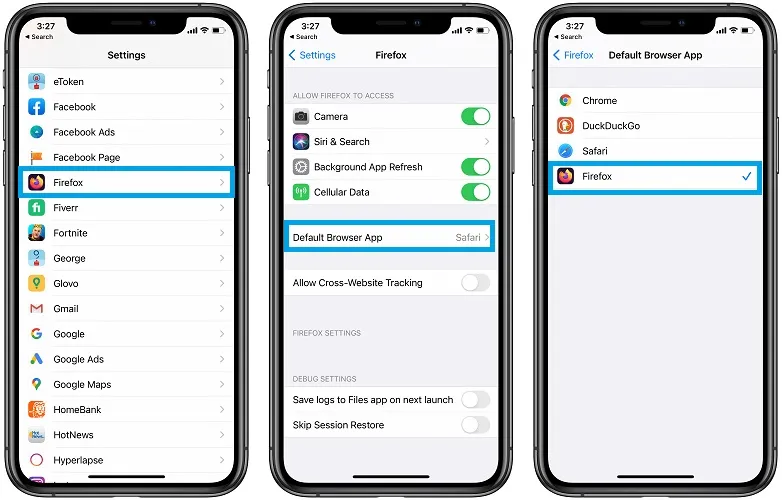 If, after changing iOS' default web browser, you decide you don't like the third-party software you chose, uninstall it by following the instructions in the previous section.
According to a statement from Apple, the iPhone will automatically set a different web browser app as your default when you remove one. Your iPhone will start with Safari as the default web browser unless you alter it, for example, if you remove a third-party web browser app.
Browsing Made Easy
It's critical that users are happy with the mobile browsers they are accessing. And when looking for the best browser, each person may have various criteria in mind. Others may want to safeguard their children's online identity, while some may prefer to set up an anonymous browser for web browsing.
Whatever the cause, knowing how to change your iPhone or Android's default browser settings can be crucial. Fortunately, the procedure is relatively easy.
Users should be aware that changing the default browser on the iPhone is only possible on specific iPhone models (iOS 14 and above). You can simultaneously upgrade your default browser regardless of your Android device.
In The End
If you also delete a web browser app, your device will make Safari the default app. If you delete the Safari app, your device will make one of your other web browser apps the default browser. You must reinstall your smartphone's Safari app to use it again.
Your device will also set the Mail app as the default if you delete an email app. If you delete the Mail app, your device will default to one of your other email apps. You must reinstall your device's Mail app to use it again.
Frequently Asked Questions
Why should my default browser be changed?
The ability to read web pages aloud and have your browser generate secure passwords for you are a couple of incredible capabilities that might make switching browsers faster and even more convenient. All browsers allow you to bookmark pages and save passwords, so you won't have to type them in again constantly.
On my iPhone, which browser should I use? Why?
The fact that Chrome is the second-most popular iPhone web browser after Safari is not surprising. The main factors influencing the app's popularity are its performance, dependability, and stability. You can quickly sync the Chrome application between your desktop and mobile devices.
How can I set a particular website as my default browser?
Select Settings > Apps > Default Apps from the menu. Click the Web browser app after scrolling down the list of available apps. Select an application from the Microsoft Store, Firefox, Chrome, or already installed on your computer.
How do I turn off Safari-only mode?
Save this answer. Show activity on this post. You can disable the Guest account at startup in System Preferences -> Security & Privacy -> Advanced (the button at the bottom of the screen. The checkbox says, "Disable restarting to Safari when the screen is locked."