How to Change a Hotspot Name On iPhone?
Fast cellular data allows you to work on your PC virtually anywhere, so replacing your iPhone with a laptop could be better. How? Fast mobile internet also means that your iPhone's Personal Hotspot feature, which broadcasts a wireless connection to the internet from your phone, works lightning fast. If you're stuck somewhere with bad or no WiFi and need to use your desktop or laptop computer, the hotspot network on your iPhone can help. When you activate your hotspot, its name will automatically be the same as the hotspot name on your iPhone. Change that name to something you'll remember to make it simpler to find in a list of networks.
Way to Change Hotspot Name On iPhone
Go to Settings > Cellular Data > Personal Hotspot feature on your iPhone to turn on a mobile hotspot. After that, move the slider next to "Let Others Join." You should first choose Set up Personal Hotspot in Settings if you have an older iPhone.
Open the Settings app also on your iPhone to update its settings.
On the open the settings app screen, choose General.
At this point, choose About.
Navigate to your iPhone's Settings > General > Name to alter the hotspot's name.
The name of your auto hotspot is currently displayed in the text box. Click the grey x in a circle to the far right of the text field to remove the current hotspot name.
By inserting a new name into the text area, you can change the name of your hotspot to whatever you prefer.
This would instantly change the old or default name.
Working of Hotspot
If you're curious, here briefly explains WiFi hotspot tethering. Most cell phones can potentially become portable WiFi hotspots in an emergency. This is helpful if you use the internet on your laptop, computer, or tablet without WiFi.
Why not simply use your smartphone to write an email or perform internet-related tasks? Sometimes you need a full-sized device to work from, or you need to email a file but can't get it to your phone.
WiFi Hotspots are easy to use and don't need any extra equipment. You only need to turn on the function on your phone to get started. Similar to other WiFi name connections, it operates.
Because your phone uses the mobile data network to serve as a transfer point and produce a WiFi signal, keep it turned on. Make sure your plan has enough remaining GB as well.
Additionally, using this connection is preferable to connect to a public WiFi network. Though this may vary depending on your cell phone operator, it's typically quicker and more secure than most public WiFi networks.
Your iPhone can also be a hotspot for other devices, which is very helpful if you need to work with coworkers without Internet access. Be cautious and secure your connection with a hotspot password to avoid illegal access. When finished, it also helps to turn off your hotspot
Instructions for using your iPhone Hotspot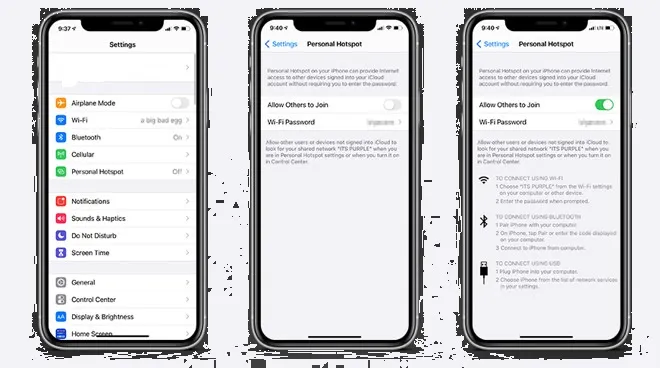 The best way to connect to your iPhone's hotspot over WiFi is to search for the name of your iPhone in a list of WiFi networks available on another device. Your iPhone's hotspot password can be entered when asked for a WiFi password.
Use WiFi to Connect to Your iPhone Hotspot
Connect to your iPhone's hotspot by opening the Bluetooth settings on your device. Bluetooth mice and wireless headphones can both be paired in the same way. Once your device is connected to the network, click "Connect to Network." You may have to follow different steps depending on the device you are trying to connect to.
Use Bluetooth to Connect to Your iPhone Hotspot
Your smartphone and iPhone should display the same code. You can now pair your iPhone by tapping the Pair button.
Requesting Bluetooth Pairing
Using your iPhone's hotspot is as simple as inserting it into your device. You will then need to find the name of your hotspot in your list of accessible networks. If you connect to your iPhone via a computer, your hotspot may appear as an Ethernet connection.
Connect-iPhone-Hotspot-Via-USB
Check out our step-by-step instructions to create a hotspot on any device, including a Mac or Windows 10 PC.
On Android, you are changing the hotspot name
Launch Settings. You can do this by pressing the gear icon in the Gear app or the Quick Menu that appears when swiping down from the top of your screen.
The stages in this method vary depending on your phone type, but they are all the same.
Then select Wireless & Networks. Typically, it's next to the networked globe icon.
Some phones, such as the Samsung Galaxy, say "Connectivity."
Select Hotspot & Tethering by tapping it.
Click the WiFi hotspot. You'll see the specifics of your hotspot if this is a "Mobile Hotspot" instead.
Tap Configure or the name of your hotspot. If you selected Configure, you must choose the Network name field to continue.
Your hotspot needs a new name. Press the backspace key on your keyboard to delete the current text and type a new name.
To modify the password you've set for your hotspot, hit the "Password" section.
Click Save. Before leaving the menu, make sure you preserve this updated data.
Conclusion!
This new name will show up not only in your hotspot but also in iCloud, AirDrop, and on your PC. This is also important to remember while you're renaming your iPhone.
Frequently Asked Questions
How can the hotspot password be changed?
IOS won't let you set up a personal hotspot without a password. Go to Settings, Personal Hotspot, and WiFi Password to alter the initial password you set. The Personal Hotspot page is also accessible over cellular or mobile data.
You can enter a new password after selecting WiFi Password. It must contain ASCII characters and also be at least eight characters long. Remember that you must reconnect all linked devices after changing your hotspot password.
Do you need to enter your password to connect to your iPhone's hotspot?
How do I change the hotspot on my iPhone?
Go to Settings > Cellular > Personal Hotspot or Settings > Personal Hotspot. Tap the slider next to Allow Others to Join.
Is an iPhone hotspot the same as Wi-Fi?
Wifi is a wireless communication technology used for LAN(Local Area Networks). Whereas the hotspot provides internet to wireless devices by using wifi. There is no hotspot without wifi. Whereas a hotspot is created using wifi.