What Should You Do If WhatsApp Does Not Connect to An iPhone?
WhatsApp is still the best app for iPhone users, despite Apple's aggressive marketing of the iMessage service. Millions of people enjoy using it to communicate with their friends and relatives. The Facebook-owned service may only sometimes connect when you open the app from the app store, even if it usually does. Read on to learn how to fix WhatsApp not connecting to iPhones if you have a similar issue.
When WhatsApp is opened on an iPhone, the connection status is always shown at the top. In other words, you won't be able to use the platform to send or receive messages. That still holds whether you are sending or receiving material. It can be inconvenient, especially if you need to send a WhatsApp message quickly.
Why Won't WhatsApp Connect To My iPhone?
Poor internet connectivity is one of the most frequent causes of WhatsApp not connecting issues on iPhones or not allowing users to send or receive messages. WhatsApp won't connect on an iPhone if your internet connection is unstable. You must check to ensure a reliable internet connection to avoid any issues.
You must toggle cellular data and look at your current data plan if WhatsApp isn't working on your iPhone. If you have an active data plan and WhatsApp still doesn't work, check your network or call your network operator for help setting up the right APN settings. On the other hand, you must toggle Wi-Fi, reconnect to that Wi-Fi network, restart the Wi-Fi router, or get in touch with your ISP if WhatsApp isn't operating on your iPhone while connecting to a Wi-Fi network.
Steps to Follow When WhatsApp Not Connecting to iPhone: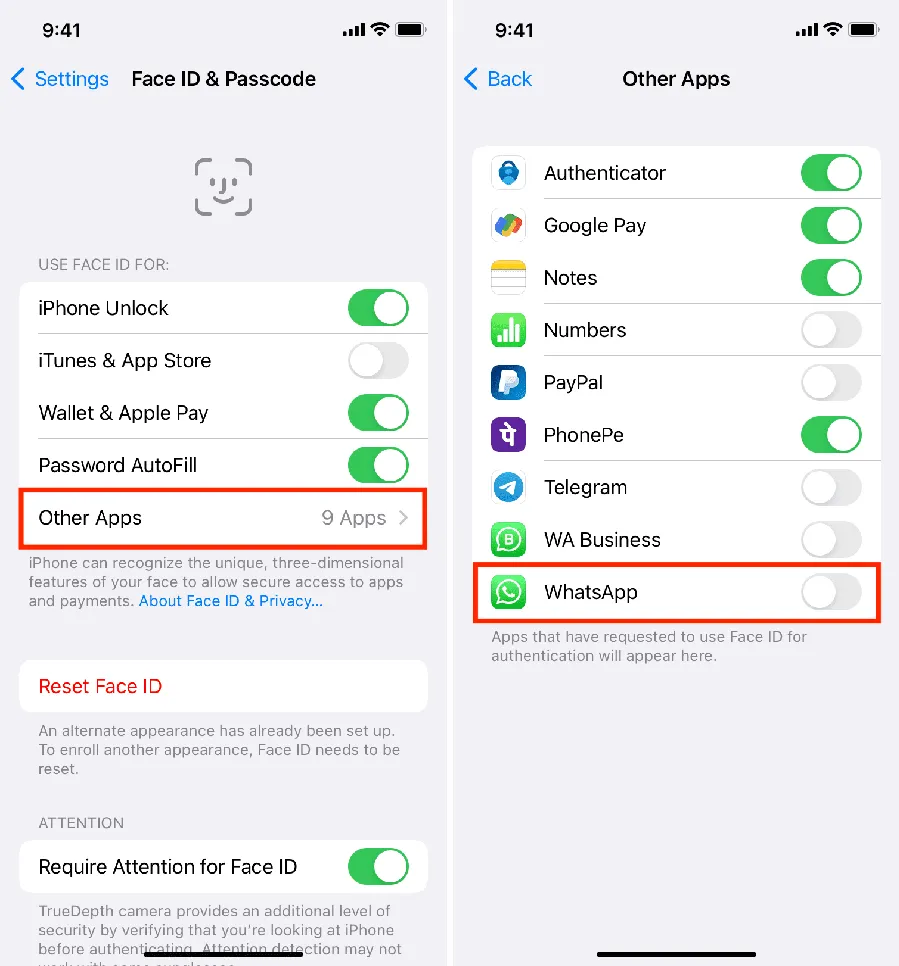 The actions to take if WhatsApp is not connecting to your iPhone are as follows:
Turn On and Off Airplane Mode
On your iPhone, you can experience several network problems. If so, connecting WhatsApp on iPhone will be difficult. With network-related issues, this method has been a lifesaver.
Airplane mode on the iPhone may be activated by swiping down from the upper right corner of an iPhone with Face ID. Disable it from the same menu after a while.
When using an iPhone with a physical home button and volume button, you can activate or deactivate Airplane mode by swiping up from the bottom of the screen to expose the Control Centre.
Open WhatsApp to Mobile Data
Did you remove WhatsApp from your cellular data plan? If you have WhatsApp's mobile data disabled, your phone will continue to experience connectivity errors. IOS allows you to enable or disable mobile data for installed apps. To activate mobile data for WhatsApp, follow these steps.
Step 1: Launch the iPhone settings app.
Step 2: Find the WhatsApp app by scrolling down.
Step 3: Tap it to turn on iPhone's mobile data toggle.
Verify the WhatsApp Servers
Suppose your WhatsApp is Not Connecting iPhone on a bad day for the servers. If so, you won't be able to download any PDF files or media from WhatsApp to your iPhone.
Such crimes have been committed by WhatsApp before. The business had a major setback recently, but its services still need to be available for a few hours. Go to the Down detector and search for WhatsApp. There is a problem on WhatsApp if you witness excessive shutdown spikes.
It would help if you waited till WhatsApp resolved the problem. Sometimes it may take anywhere from a few seconds to several hours.
Reset the Controls
The iPhone may experience connectivity problems if the wrong setting is changed in the settings. From the General menu, you must reset network settings. Follow the instructions listed below.
Step 1: Open the Settings app on your iPhone in step 1.
Step 2: Go to the General menu in step two.
Step 3: Choose between Reset and Transfer in Step 3.
Step 4: After choosing Reset settings general, you are finished.
Reset Network Configuration
Do you frequently experience network problems with your iPhone? How? If the Airplane Mode approach doesn't work, you should reset the network settings on your iPhone. Read on.
Step 1: is to open the iPhone's Settings app.
Step 2: Access the General menu.
Step 3: From the menu that appears, choose Reset at the bottom and Reset Network Settings from the list.
Take Low Data Mode Off
Using low data mode on mobile networks may cause problems with WhatsApp on the iPhone.
Go to Mobile Data in Settings by opening the app.
Select your current carrier on the iPhone and turn off the low-data setting.
Update WhatsApp If WhatsApp is Not Connecting iPhone
Update WhatsApp to the most recent version if you still use an older iPhone model.
The WhatsApp app is updated frequently with new features and enhanced dependability.
Go to your account in the App Store by opening it on an iPhone.
Install the newest version of WhatsApp.
You shouldn't have a connecting error when opening WhatsApp on your iPhone.
Test flight Is Used to Sign Up For WhatsApp Beta
The corporation may update the software if connecting to WhatsApp becomes a common problem. The business beta-tests the new version with users before releasing it publicly.
Sign up for WhatsApp Test Flight on your iPhone by clicking this link. You will receive a notification from the Test Flight application whenever a new version of WhatsApp is made available for iPhone users.
If You're Having Trouble Connecting to WhatsApp on Your iPhone, there are A Few Things You Can Try:
Check your internet connection: Ensure you have a strong and stable internet connection. You can try switching to a different network or restarting your router to see if that helps.
Check for updates: Make sure you have the latest version of WhatsApp installed. You can check for updates in the App Store.
Restart your phone: Sometimes, simply restarting your phone can help resolve any issues you may be experiencing.
Check your phone's settings: Make sure your phone's date and time are set correctly and that you have not disabled access to WhatsApp in your phone's settings.
Uninstall and reinstall WhatsApp: If none of the above steps work, you can try uninstalling and reinstalling the app. Make sure to back up your chat history before uninstalling.
If you continue to have trouble connecting to WhatsApp after trying these steps, you may need to contact WhatsApp support for further assistance.
Finally,
That's all we have to say about fixing WhatsApp that's not connecting or working on your iPhone. We hope these instructions have enabled you to resolve those annoying WhatsApp issues. Also, please let us know about similar problems in the comments box below. We'll be pleased to assist you.
FAQs
Why won't WhatsApp on an iPhone connect?
Your gadget must be powered off and back on to restart your iPhone. Reinstall WhatsApp, the app store's most recent version of the Apple logo. Then activate and deactivate Airplane Mode. Toggle Cellular Data by tapping Cellular.
Why is WhatsApp saying that there is no connection?
Download the most recent version of WhatsApp from the Google Play Store. The most recent Android operating system for your smartphone should be installed. Turn Wi-Fi on and off by going to your device's Settings > Network & Internet> Internet. Try logging in to various Wi-Fi hotspots.
Why does WhatsApp on my iPhone indicate a connection?
·         When WhatsApp's "Connecting…" screen remains unresponsive, the program cannot establish an internet connection.
·         This could indicate a problem with WhatsApp's servers, your internet connection, or both. Check WhatsApp servers.
How do I contact WhatsApp support if I have trouble connecting to the app on my iPhone?
If you have tried the above steps and cannot connect to WhatsApp on your iPhone, contact WhatsApp support for further assistance. You can do this by going to the "Settings" menu in the app and selecting "Help" > "Contact Us." You can then choose the relevant category and describe the issue you are experiencing, and a representative from WhatsApp will get back to you with a resolution.