How to Change Contact Name on IPhone?
iPhones are the product of one of the biggest smartphone brands, "Apple." The iPhone provides great value for money. Yet some people have difficulty using them, as they run on completely different operating systems. It may be hard for people to understand if they have switched from an Android operating system. If you also have difficulty understanding iPhone settings, don't worry; we are here to solve all your problems and guide you to change the contact name on your iPhone.
Managing Contacts on an iPhone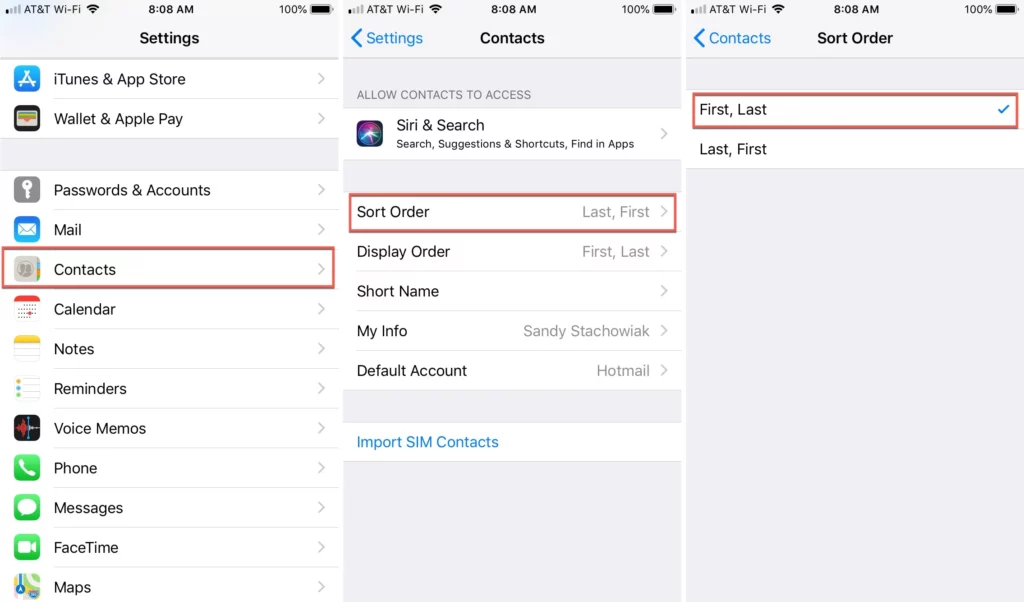 You can store contact information and phone numbers for people you know on the iPhone. To make a call and send emails faster, you can use saved information in the contacts by searching for their contact name. You may add as many contacts as you need on the iPhone storage, ensuring you always have access to crucial contact information.
Create a New Contact Name
The first thing to do to get a contact name on your iPhone is to save the number.  You can create a new one to save a contact with a different name.
Just by following the simple given steps;
Open the contacts app and tap on the plus Sign (+) in the screen's top right corner.
If you want to save a contact from recent history, tap on contemporary and tap on the info sign next to the number you want to save.
If you want to add a number, manually tap on Keypad. Enter the phone number you wish to change the contact name of, then tap on add a number.
After this, you can add the number to an existing contact name or create a new contact and set your preferred name. Once you have completed the new name, you can delete the old one.
Changing Contact Name on Already Existing Contacts
Sometimes we may accidentally save contact information with the wrong name or information. This little mistake can lead to big troubles or misunderstandings. Or your friend can prank you by altering the contact names on your iPhone. You can work hard enough to get out of these troublesome situations.
To change the contact name on your iPhone. Follow the given steps.
Step 1
Search for the contacts app on your iPhone home screen. Open up the connections app on your iPhone, or open up the dialer app and swipe to all contacts.
Step 2
Scroll down and tap on the contact you want to change the contact name of. All the contact information will appear on the screen when you tap it.
Step 3
Once you have all the information on the screen, you will see the edit option in the top right corner. Tap edit, and you will have the opportunity to alternate and edit all contact information.
Step 4
Tap on the already written name, clear the space, and write the name you want for that specific phone number. You can also add a photo, email, or other information from there.
Once done, tap on done, and your contact information will be updated.
Changing Contact Name Order on iPhone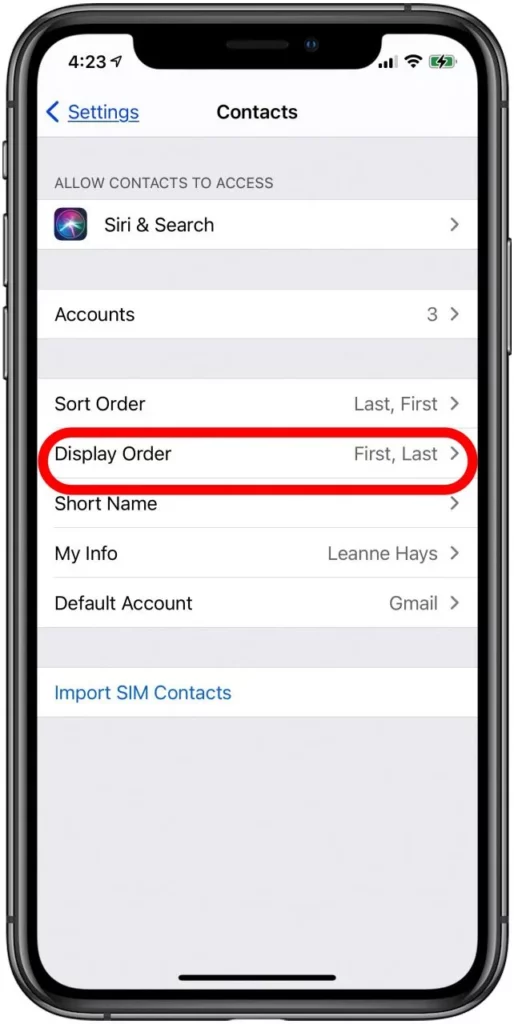 IPhone users may need clarification with the order of contact names on their iPhones. If you want to change the order your contacts placed on your phone, there is a simple way.
You can change the order of contact names displayed on your iPhone if the last name appears before another or vice versa. As a result, names will no longer appear in Emails, Messages, Contacts, phones, and other applications that adhere to this configuration.
To change the order, given are the steps.
Step 1
Launch "Settings" on your iPhone first. Scroll down, then tap "Contacts" under "Settings."
Step 2
You have two options under "Display Order" in the "Contacts" settings menu. Displaying the first name and last name is "First, Last." "Last, First" lists the first name followed by the last name.
Step 3
Pick the one you also like best and the settings will be applied to all your contacts.
Contact Short Name Feature
The Contacts' "Short Name" feature controls how names appear in programs like Mail. When "Short Name" is activated, the app might provide a first name instead of displaying the complete name sequence you just specified.
To check again, tap "Short Name" after pressing "Back" once to go to the "Contacts" settings.
"Short Name" is enabled by default; if you want to see a surname and the order you just selected, click here.
Instead, press the switch to deactivate "Short Name." After that, tap "Settings" once more to leave. The following time you utilize an application that retrieves contact information the way you prefer and has set.
Reason You May Not Be Able To Change Contact Name
Some people may need help by not updating or changing contact names. If this is the case with you, there may be a big reason. It can be because your cloud sync needs to be active for contacts.
If your contacts are imported from a Google account, not from iCloud, they will have their old information stored. You can turn on the sync for these contacts by going into the settings app. Tap contacts, next tap on accounts, and choose the account you sync your data with.
After these settings, you can edit and update your contacts.
Summing Up
This article will help you save and sort out contact names on your iPhone as you prefer. Understanding the iPhone and its settings is not a difficult task. It just requires some attention and a few simple steps. You can always ask for iPhone support if you still can't solve your problem.
Frequently Asked Questions
Why can't I change the name of a contact?
Possible reason: There will probably be at least one item where synchronization fails. The fix: On all your iOS devices where you want contacts to sync, switch on the Internet (mobile phone data or Wi-Fi). Ensure that synchronization of Contacts is turned on in settings across all devices.
Can I add nicknames on iPhones?
Yes! Go to Settings on the home screen, tap on Contacts settings, find the Short Name setting, and turn on Prefer Nicknames to let iOS utilize it. From that point on, iOS will display your friend's nickname everywhere instead of his name, and you can enter it in apps like Messaging and Mail instead of his real name.
Why are my contacts showing different names?
You can fix this by deleting duplicates or merging contacts. You can quickly delete duplicate contacts using the Google Contacts app if you have an Android. If you have an iPhone, go through your contact list and merge any duplicates you find.
Where are iPhone Contacts settings?
Turn Contacts on or off for an account
Go to Settings > Contacts > Accounts. Tap the account that has contacts that you want to add or remove. To add contacts, turn on Contacts. To remove contacts, turn off Contacts, then tap Delete from My iPhone.