Exploring the Wonders of Apple Music on Your iPhone
In today's digital age, music has become an integral part of our lives, allowing us to connect with emotions, memories, and experiences like never before. Apple Music, a streaming service the tech giant offers, has completely changed how we access and enjoy our favorite music. With its seamless integration into the iPhone ecosystem, Apple Music has become a staple for music enthusiasts worldwide. This blog post will explore how Apple Music works on an iPhone, its features, benefits, and frequently asked questions.
How Does Apple Music Work on an iPhone?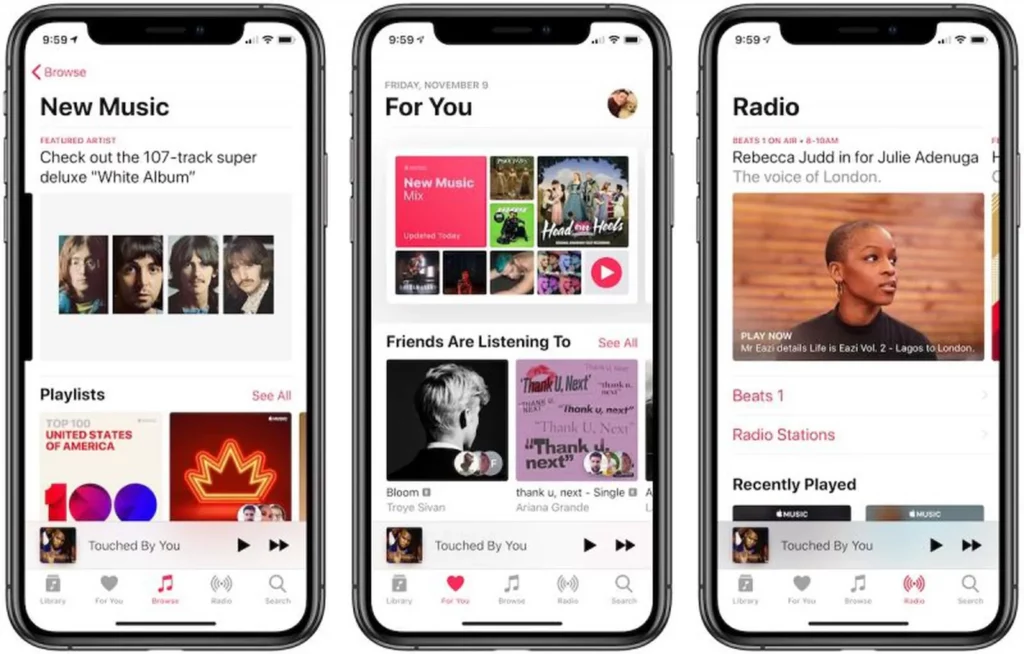 Apple Music is a subscription-based music streaming service that allows users to access a vast library of songs, albums, and playlists. To understand how AppleMusic works on an iPhone, let's break down the process step by step:
Sign Up or Sign In:

You need an Apple ID to get started. If you don't have one, you can create one during the setup process on your iPhone. If you already have an Apple ID, sign in.

Subscription Selection:

Apple Music offers several subscription plans, including individual, family, and student options. Choose the plan that best suits your needs and budget.

Explore the Library:

Once subscribed, you can explore Apple Music's extensive catalog of songs and albums. Use the search bar to find specific tracks or browse curated playlists and genres.

Creating Your Library:
You can add songs and albums to your library as you discover music you love. This allows you to access your favorite tracks quickly without searching each time.
Offline Listening:

One of the standout features of AppleMusic is the ability to download songs for offline listening. This is perfect for situations where you don't have a stable internet connection, such as during flights or road trips.

Personalized Recommendations:

Apple Music employs advanced algorithms to analyze your listening habits and preferences. It then provides personalized recommendations, helping you discover new music tailored to your taste.

Curated Playlists:

Apple Music offers a variety of expertly curated playlists based on moods, activities, genres, and more. These playlists are updated regularly and provide a hassle-free way to enjoy continuous music.

Siri Integration:

Thanks to the tight integration between AppleMusic and Siri, you can use voice commands to play specific songs, ask about artists, or even inquire about the top hits of a particular year.

Cross-Device Syncing:

Your Apple Music library and preferences are synced across all your Apple devices, including iPhones, iPads, Macs, and even the Apple Watch, ensuring a seamless music experience.

Sharing and Social Features:

You can share your favorite tracks, albums, and playlists with friends and family through the Messages app or social media. Collaborative playlists allow multiple users to add songs, making them perfect for parties and gatherings.
Benefits of Using Apple Music on an iPhone
Integration and Ecosystems:

AppleMusic seamlessly integrates with the iPhone's native music app, offering a familiar and user-friendly experience for Apple device users.

Massive Music Library:

With over 75 million songs at your fingertips, Apple Music boasts an extensive library that caters to a wide range of musical tastes.

Offline Listening:

The ability to download music for offline listening ensures you can enjoy your favorite tracks even without an internet connection.

Personalized Recommendations:

AppleMusic's algorithmic recommendations help you discover new artists and songs that align with your musical preferences.

Curated Playlists and Radio:

The platform's curated playlists and radio stations provide a hassle-free way to explore new music or enjoy a specific genre without searching.

Siri Voice Commands:

The integration with Siri enables hands-free control, allowing you to enjoy your music while on the go.

Cross-Device Syncing:

Your AppleMusic library and preferences are synchronized across all your devices, ensuring a consistent experience no matter which device you use.

Family Sharing:

With the Family subscription plan, up to six family members can share the same Apple Music subscription, making it cost-effective for households.
Add Apple Music to your iPhone and Listen Offline
To add music to your iPhone and listen to it offline, you can follow these steps:
Method 1: Using Apple Music (Subscription Required)
Subscribe to Apple Music: If you're not already subscribed to Apple Music, you must sign up for a subscription. Apple Music allows you to download and listen to music offline.
Download Music:
Open the Apple Music app on your iPhone.
Search for the songs, albums, or playlists you want to download.
" Once you find the content you want, tap the "+ or "Add" button to add it to your library. Once you find the content you want, tap the "+ or "Add" button to add it to your library." "Once you find the content you want, tap the "+ or "Add" button to add it to your library. Once you find the content you want, tap the "+ or "Add" button to add it to your library.
For albums or playlists, you can tap the download icon (cloud with a downward arrow) to download the entire album or playlist.
For individual songs, you can tap the download icon next to each song to download it.
Access Downloaded Music:
Once the music is downloaded, you can access it by going to the "Library" tab in the Apple Music app.
Tap on "Downloaded Music" to see all the music you've downloaded for offline listening.
Method 2: Using iTunes (No Subscription Required)
Add Music to iTunes:
Open iTunes on your computer.
Add the music you want to your iTunes library. You can do this by either purchasing music from the iTunes Store, ripping CDs, or adding music files from your computer.
Sync Music to iPhone:
Connect your iPhone to your computer using a USB cable.
In iTunes, select your iPhone icon when it appears in the top left corner of the iTunes window.
"In the left sidebar, click on Music."In the left sidebar, click on Music."
Check the box next to "Sync Music" and choose the songs, albums, or playlists you want to sync.
Click the "Apply" or "Sync" button in the bottom-right corner to transfer the selected music to your iPhone.
Access Music on iPhone:
After syncing, disconnect your iPhone from the computer.
Open your iPhone's "Music" app to access your added music.
Please note that the availability of certain features and options may vary depending on the version of iOS or iTunes and your subscription status. Additionally, be aware of copyright laws and ensure you have the rights to the music you're adding to your device.
Conclusion
Apple Music has transformed how we experience and enjoy music on our iPhones. Its seamless integration into the Apple ecosystem, extensive music library, personalized recommendations, and convenient offline listening make it a powerful tool for music enthusiasts. Whether you're exploring new artists, curating playlists for different moods, or enjoying hands-free control with Siri, AppleMusic offers a comprehensive and user-friendly experience that continues to shape how we engage with music in our daily lives.
FAQs About Apple Music on iPhone
Can I use Apple Music without a subscription?
While Apple Music offers a three-month free trial, ongoing access to its extensive library requires a subscription.
Can I transfer my existing music library to Apple Music?
You can upload your existing music library to Apple Music's iCloud Music Library and access it across your devices.
How much data does streaming music on Apple Music use?
Streaming music uses about 64 kbps (kilobits per second) of data. Higher-quality streams will consume more data.
Can I listen to Apple Music on multiple devices simultaneously?
You can listen to Apple Music on multiple devices simultaneously using the same Apple ID.
Are lyrics available for the songs on Apple Music?
Yes, Apple Music provides synchronized lyrics for many songs, allowing you to sing along as you listen.
Can I download songs over a cellular network?
Yes, you can download songs using a cellular network, but it's recommended to do so over Wi-Fi to conserve data.
Is Apple Music available on Android devices?
Yes, Apple Music has a dedicated app for Android devices, allowing cross-platform access.