How to Use the Podcasts App on Your iPhone
In the rapidly evolving digital landscape, podcasts have emerged as a versatile and convenient way to consume content on the go. With the rise of smartphones, listening to podcasts has become more accessible than ever. Among the plethora of podcast platforms, the Podcasts app on the iPhone stands out as a user-friendly and feature-rich application.
Getting Started with the Podcasts App
Downloading and Installing the Podcasts App: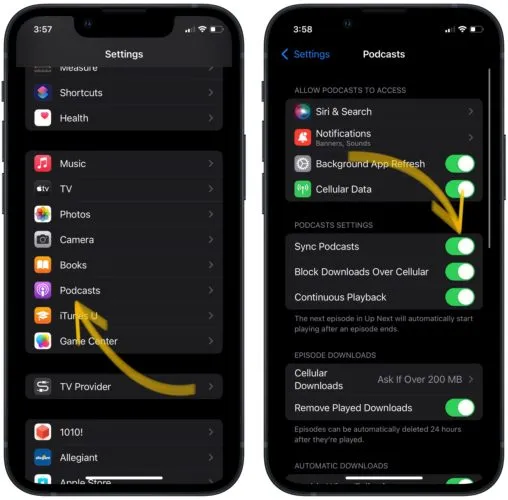 The Podcasts app comes pre-installed on most iPhones. However, you can easily download it from the App Store if you don't have it. Search for "Podcasts" and tap the "Get" button to install it on your device.
Navigating the App Interface:
Upon opening the Podcasts app, you'll be greeted with a clean and intuitive interface. The bottom menu offers quick access to tabs such as Library, Browse, Search, and more. The Library tab displays your subscribed podcasts, while the Browse tab allows you to explore new shows by categories and genres.
Subscribing to Your First Podcast:
To subscribe to a podcast, search for the desired show using the search bar or browse through the categories. Once you've found a podcast you're interested in, tap on it to view details, and then hit the "Subscribe" button. Subscribing ensures you receive notifications and updates whenever new episodes are released.
Managing Podcast Subscriptions:
In the Library tab, you can see all your subscribed podcasts. From here, you can rearrange their order, download episodes for offline listening, and customize settings for each show.
Exploring Podcasts
Browsing Podcast Categories and Genres: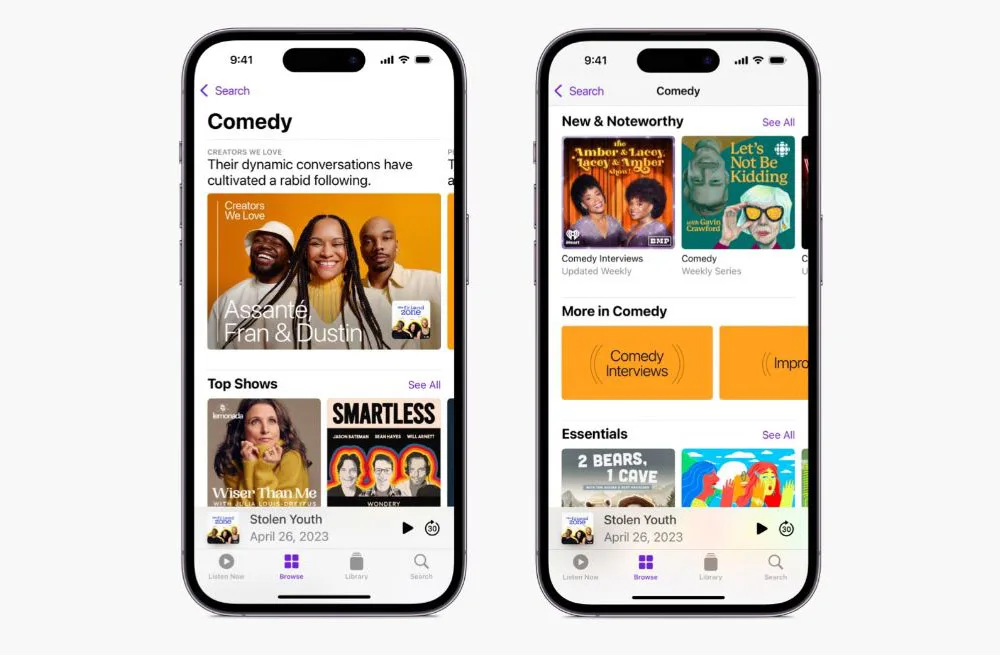 The Podcasts app offers a wide range of categories and genres to explore. Whether you're into true crime, comedy, news, or technology, you can easily find shows that cater to your interests. Use the Browse tab to navigate through the diverse podcast landscape.
Discovering New Podcasts:
The "Top Charts" and "Featured" sections on the app's homepage highlight trending and noteworthy podcasts. The "For You" section also provides personalized recommendations based on your listening history.
Searching for Specific Podcasts and Episodes:
If you have a particular podcast or episode in mind, utilize the search bar to find it quickly. The search feature also helps you discover episodes related to specific topics.
Previewing and Playing Episodes:
To listen to an episode, tap on its title or thumbnail. You can preview the episode by tapping the play button, and if you decide to continue listening, tap play again to resume. Use the playback controls to pause, skip forward or backward, and adjust the volume.
Customizing Your Listening Experience
Creating Playlists and Episode Queues: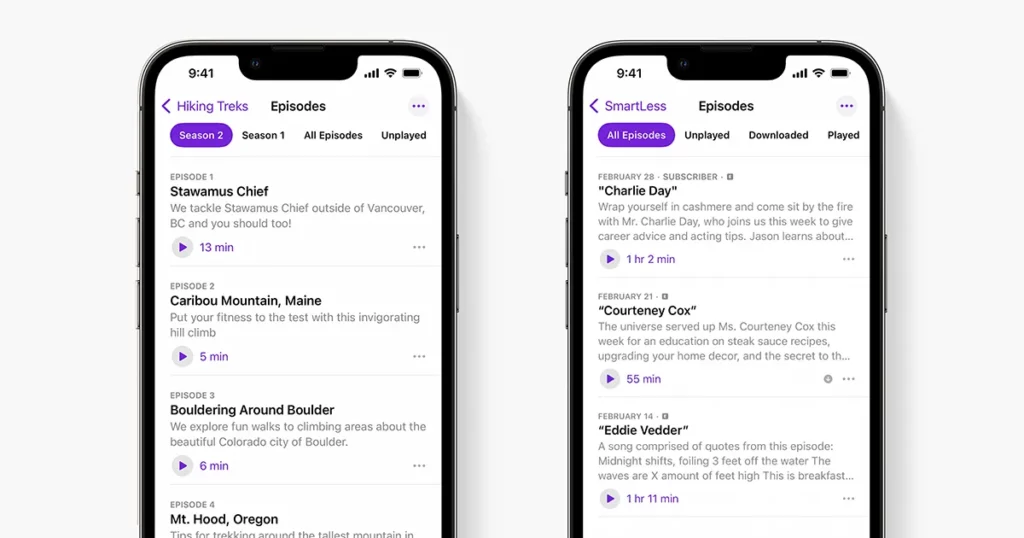 Enhance your podcast experience by creating playlists and episode queues. Playlists allow you to curate a collection of episodes from different podcasts, while episode queues let you line up episodes for seamless playback.
Adjusting Playback Speed and Skipping Settings:
Tailor your listening pace by adjusting the playback speed. You can choose from options like 1x, 1.5x, or 2x speed. Set your preferred skipping duration to jump forward or backward during playback.
Using Sleep Timers and Alarms:
The Podcasts app offers a sleep timer feature that automatically stops playback after a specified duration—perfect for falling asleep to your favorite shows. Conversely, you can use the alarm feature to wake up to a podcast episode.
Sorting and Filtering Your Podcast Library:
As your podcast library grows, organization becomes crucial. Sort podcasts by various criteria, such as recently added or unplayed episodes. You can also filter podcasts by downloaded episodes or specific show types.
Advanced Features
Auto-Download and Offline Listening:
Ensure you never miss an episode by enabling auto-downloads. This feature will automatically download new episodes when connected to Wi-Fi. Enjoy listening even without an internet connection.
Background Playback and Multitasking:
Continue listening to your favorite podcasts while using other apps or when your screen is off. The app supports background playback, making multitasking effortless.
Cross-Device Syncing:
If you own several Apple devices, you can seamlessly switch between them using iCloud syncing to keep your podcast progressing.
Enhancing Sound Quality with Equalizer Settings:
Fine-tune the audio quality to suit your preferences using the built-in equalizer settings. Adjust bass, treble, and other audio elements for an optimized listening experience.
Managing Your Library
Marking Episodes as Played or Unplayed:
Keep track of your podcast's progress by marking episodes as played or unplayed. This feature helps you avoid re-listening to episodes you've already enjoyed.
Deleting Episodes and Unsubscribing from Podcasts:
To free up storage space, delete episodes you no longer need. If you've outgrown a podcast, unsubscribe to keep your library organized.
Organizing Podcasts into Folders or Playlists:
Create folders or playlists to group similar podcasts. This organizational feature enhances efficiency and makes it easier to locate specific shows.
Backing Up Your Podcast Data:
Safeguard your podcast subscriptions and episode progress by regularly backing up your data. iCloud ensures your information remains secure and retrievable.
Synchronizing with Apple ID and Other Apps
Syncing Across Multiple Devices:
Signing in with your Apple ID allows your podcast subscriptions and progress to be synced across all your devices, ensuring a consistent experience.
Integrating with CarPlay:
If you have CarPlay in your vehicle, you can seamlessly listen to podcasts while on the road, using the same familiar app interface.
Apple Watch Compatibility:
Control your podcast playback directly from your Apple Watch. Play, pause, skip, and adjust the volume without reaching your iPhone.
Accessibility and Podcasts
VoiceOver and Accessibility Features:
The Podcasts app is designed with accessibility in mind. VoiceOver compatibility ensures that visually impaired users can navigate the app effortlessly.
Closed Captions and Transcripts:
Some podcasts offer closed captions or transcripts, enhancing accessibility for those who prefer reading or have hearing impairments.
Troubleshooting and Tips
Common Issues and Their Solutions:
Encounter a problem? Check the troubleshooting section for solutions to common issues like playback errors or download glitches.
Maximizing Battery Life While Listening:
Optimize your battery usage by adjusting settings such as screen brightness and downloading episodes only when connected to Wi-Fi.
Optimizing Storage Usage:
Set limits on the number of downloaded episodes to prevent the app from consuming too much storage space on your device.
Conclusion
The Podcasts app on your iPhone opens up a world of audio content, from informative discussions to captivating stories and thought-provoking interviews. Whether you're a seasoned podcast enthusiast or a newcomer to the medium, this comprehensive guide has equipped you with the knowledge to navigate and make the most of the Podcasts app's features. From basic functions like subscribing and playing episodes to advanced features like cross-device syncing and accessibility options, the Podcasts app provides a dynamic and user-friendly platform for your listening pleasure. So, whether you're commuting, exercising, or simply relaxing at home, grab your iPhone and immerse yourself in the fascinating world of podcasts.
Frequently Asked Questions (FAQs)
Can I listen to podcasts without an internet connection?
You can download episodes while connected to Wi-Fi and listen to them offline later.
How do I unsubscribe from a podcast?
Go to the Library tab, find the podcast you want to unsubscribe from, swipe left on it, and tap "Unsubscribe."
Can I use the Podcasts app on my iPad and Mac?
The Podcasts app is available on iPad and Mac, and iCloud syncing allows you to access your podcasts across all devices.
Are podcasts free to listen to?
Most podcasts are free, although some creators offer premium content behind a paywall.
How can I share a podcast episode with a friend?
Tap the "Share" button on an episode, and you can send it to your friend via Messages, Mail, or various social media platforms.
What is the "My Stations" feature?
"My Stations" are personalized collections of podcasts that you can create for different moods, activities, or interests.