How to Change Headphone Balance on iPhone?
Suppose just one of the two headphone jacks has sufficient loudness (Left or Right). Depending on the application and the situation, you should set anything specifically, or you might want something you like. Then you can follow these instructions to do it. The sound system usually needs 2 channel speakers to establish various sound levels on the right or left speaker's face. People may contact the headphone maker or the Apple Store if one of their earbuds does not function due to incorrect configuration during setup.
Enjoy the headphone balance features that are helpful for troubleshooting and different situations. With the help of this volume balance slider, we can completely silence one end of the sound.
How To Adjust The iPhone's Left or Right Speaker Volume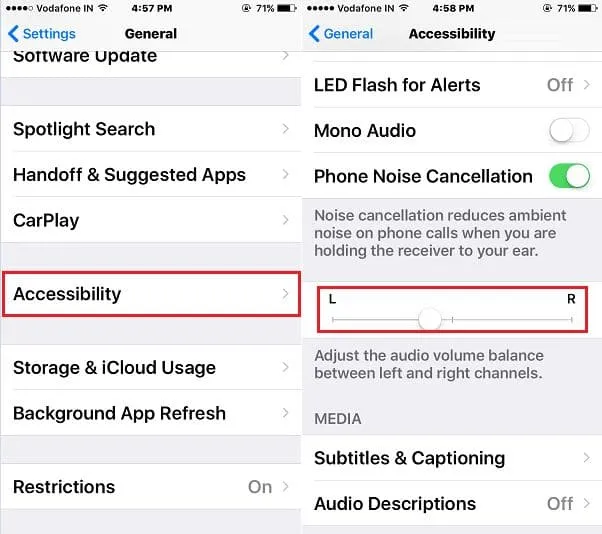 Open the Settings app on the iPhone or iPad and select the Accessibility option.
Now select audio/Visual from the menu.
Change the mono audio headphone balance for the left and right speakers inside the Balance category.
iOS 12 and Previous.
Open the Settings app.
Tap General next.
Next, navigate to Accessibility.
The hearing section component is down under Accessibility. The slider for loudness appears.
Slide the Volume Headphone Balance Ball Left or Right to Adjust
Slide to Left: Glide to the left, turn down the appropriate headphone balance speaker level, and turn up the left speakers only.
The left headphone speaker volume is reduced as you slide to the right.
Please set it to Center to ensure that both headphone speakers receive the same amount of device sound.
Balance On-call or Speaker functionality on the iPhone is unavailable; only external speakers or headphones plugged into the audio jack are functional. In case you know, turn on noise cancellation if you want better sound or voice quality on phone calls (Just Available above slider).
Still not functioning: Check and confirm any hardware issues with your headphones using a different mobile device or audio balance port. Finally, kindly get in touch with Apple support right away.
While connected, continue giving helpful advice on your earbuds as you adjust the iOS option to balance the iPhone's volume.
iPhone Settings For Mono Audio, Headphone Balance, And Phone Noise Reduction To Be Modified
You can customize the phone noise cancellation, left-right stereo balance, and mono audio to your preferences.
Accessibility audio visual can be discovered in Settings.
Any of the following adjustments:
Turn on mono audio to mix the left and proper channels to broadcast the very same audio.
Drag the Left to Right Stereo Balance slider to achieve balance.
Phone noise cancellation: When you keep the transmitter to your ear during phone calls in some noisy locations, air pressure reduces ambient background noise to assist you in hearing better. On iPhone 12 and earlier, phone noise cancellation is provided, switched on by default, and can be disabled for convenience.
On Your iPhone or iPad, adjust The Volume of Your Headphones.
With Headphone Accommodations in iOS and iPad 14 and later, you may amplify background music and change specific frequencies to suit your hearing aid needs.
Create Headphone Accommodations
Verify that you are also using the most recent iPadOS or iOS version.
Accessibility > Audio/Visual > Headphone Accommodations under Settings. Headphone accommodations should be enabled.
Decide how to use your customized audio settings:
To implement these preferences to phone calls, FaceTime calls, and any other third-party video call apps, turn on the Phone.
Turn on Media to apply these preferences to voicemail, live listening, Siri, podcasts, audiobooks, and music.
Adjust the audio settings on your headphones:
Tap Custom and make use of the Custom sound output Setup. You will hear audio samples and select the ones that sound best. The proposed custom settings can then be used based on your selections.
Utilize the audiogram data.
Adjust the audio settings individually.
Employ Custom Audio Setup
Set all custom audio setups currently in use back to their default values:
To turn off Music EQ, navigate to Settings > Music > EQ and touch Off.
Accessibility > Audio/Visual > Settings > Settings > Accessibility, then move the Balance slider. Set the level of the audio volume to the middle.
Put your headphones on. Ensure that you are in a peaceful setting.
Accessibility > Audio/Visual > Headphone Accommodations under settings on iPhone. Click Custom Audio Setup.
Observe the directions displayed on your screen. When done, open the settings app and select Use Custom Settings to apply the suggested custom settings based on your selections.
Utilize the Audiogram Information in the Health App
To use your audiogram information from the Health app to alter audio settings, tap Custom Audio Setup, then press Use Audiogram.
Headphone Modifications will adapt the left and proper audio channels to the average between the two ears if your audiogram is almost symmetrical. This should fit the left and proper audio channels for your hearing threshold if you possess an unbalanced audiogram.
Changing Audio Settings by Hand
You may manually change the tone and volume settings from the Headphone Audio panel. To hear an audio clip with your default setup, tap Play Sample. While listening to the sample, you can alter these settings to contrast them.
To equalize the audio volume between the left and right streams:
Accessibility > Audio/Visual can be found under Settings.
Slider for Balance adjustment
On Your AirPods Pro, Use Conversation Boost
When you utilize Conversation Boost, your AirPods Pro focuses on the person speaking before you. When speaking face-to-face, this makes it easier to hear.
Conversation Boost can be enabled by:
Verify also that you are using the most recent iPadOS or iOS version.
Connect your AirPods Pro to your iPhone or iPad after inserting them into your ears.
Accessibility > Audio/Visual > Headphone Accommodations under Settings.
Check to see if Headphone Accommodations are enabled.
Turn on Conversation Boost and select Transparency mode.
Finally
So this is all about how you change the headphone balance on iPhone.
FAQs
How can I adjust the balance of my headphones?
·        Start the Settings application.
·        Scroll down in the Settings app and select accessibility settings.
·        To access the section regarding audio and on-screen text, scroll down.
·        To increase the volume in the left or right ear, drag the slider for audio balance to the left or right.
How can I fix my iPhone's imbalanced headphones?
iPhone settings will be modified for mono audio, balancing, and phone noise reduction.
·        Accessibility > Audio/Visual can be found under Settings.
·        Any of the following adjustments: Stereo audio To play the same video on both the left and proper channels, turn on the feature. Drag the Left to Right Stereo Balance slider to achieve balance.