How to Change Pin On iPhone?
Your phone needs a strong pin on an iPhone that only you know is secure. Face ID is an option on current iPhones, but your passcode is still your fallback security if that doesn't work. Changing the set passcode immediately is a good idea if you suspect someone else knows it. You'll need to understand how to change your iPhone's passcode. Below, we'll go over how to do this.
How to Change the iPhone's Passcode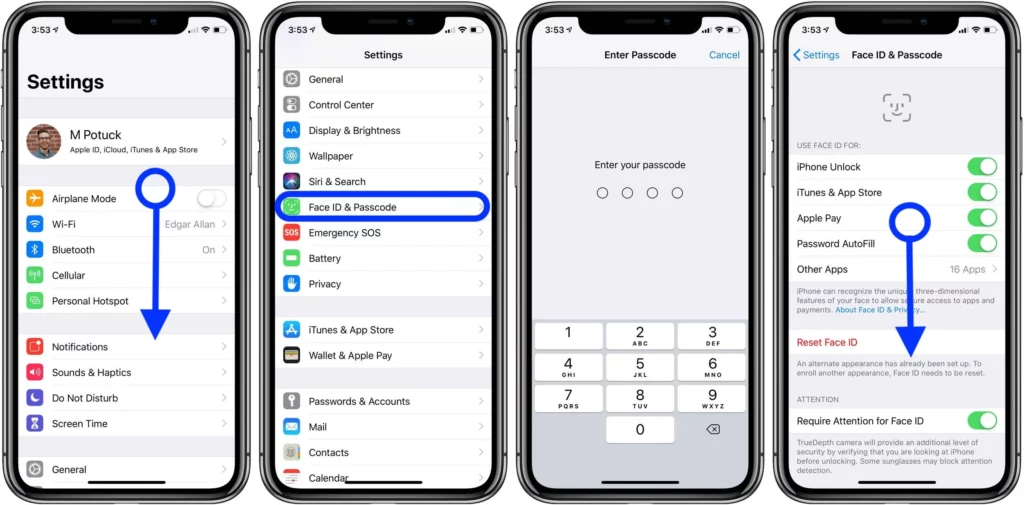 An iPhone's security can be increased by changing its pin, especially if you believe it has been compromised. Luckily, changing your iPhone passcode is simpler than you would think.
On your iPhone, do you need to reset your password? This article will show you how to unlock your iPhone if it has been locked and how to update the lock screen passcode. Additionally, you'll discover how to alter the lock screen time or lock your iPhone even more securely.
Password For iPhone Lock Screen Is Crucial.
Even if you aren't aware of it, your iPhone probably stores much personal information about you. It has apparent things like pictures, emails, and payment information, as well as less obvious things that can tell a skilled hacker a lot about you. As a result, safeguarding your phone becomes an imperative responsibility.
A pin on an iPhone is a great way to stop people you don't want from unlocking it and getting to your data. By default, it's a six-digit code, but you can change it to a unique alphanumeric password. You can outright disable your passcode if you want to, but we don't advise it for security reasons because it's risky.
Face ID Is Great Security for the Pin On iPhone.
Although your Face ID is a great security pin on an iPhone, a poor passcode (or no passcode) can still undermine it. This article will teach you how to modify your iPhone's passcode and secure the information on your phone by altering the lock screen password.
Bad iPhone Lock Screen Password Risks
Sometimes, people need to pay more attention to the importance of a powerful iPhone. Sometimes people need to pay more attention to the extent of a secure pin on an iPhone. They create passwords that are dangerously simple to crack using the brute-force method. However, you could also run into the exact opposite issue: extremely complicated passwords. This happens when the companies that use them go too far and make passcodes that are too long and hard to remember. Users won't lock their iPhones as a result.
Even worse, you cannot fully secure yourself with biometric security. Touch ID and Face ID are fantastic. But in many situations, such as when you need to unlock your iPhone while wearing gloves or a mask (which prevents Face ID from working), you'll still need a passcode (no Touch ID). Additionally, if the iPhone prompts you to enter your passcode,
Also, you must enter your passcode if the iPhone's battery dies and you charge it and turn it back on.
Increasing Password Security on Your iPhone
We hope you now see how crucial it is to lock your phone properly and securely. Consider updating your iPhone lock screen password if it is too brief, contains personally identifying information, or is overly complicated. Additionally, using a mix of numbers and characters and resetting your passcode frequently are good security practices.
How to modify the iPhone's Passcode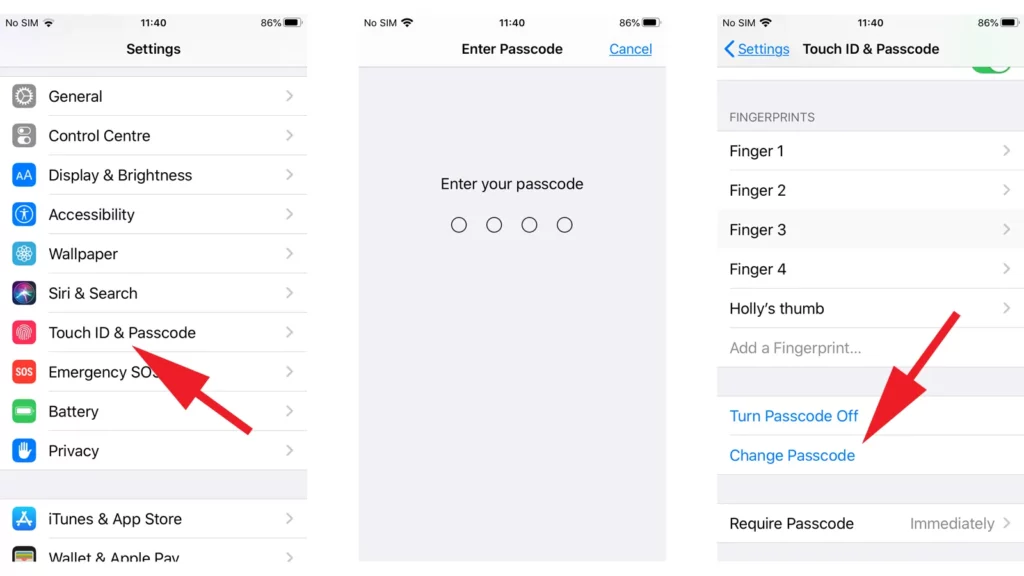 Open the settings app.
Tap passcode options or Face ID & Passcode as appropriate as you scroll down.
To proceed, enter your passcode. Changing the iPhone's passcode.
The Change Passcode option can be found by scrolling down the list.
Changing the pin on the iPhone.
On the Change Passcode screen, enter your current passcode once more.
Changing the iPhone's passcode.
Type in the new passcode you want to use when the option to enter your new passcode displays. Be sure it will stick in your memory. However, move on to the next stage if you wish for more possibilities. Changing the iPhone's passcode.
Tap Passcode Options to select a more secure passcode (such as an alphanumeric passcode) that is not a typical six or 4-digit number.
Custom alphanumeric code, custom numeric code, and 4-Digit Numeric Code are the options available here.
Letters and digits are used to create an alphanumeric code.
Only letters or only numbers are allowed in a custom numeric code.
Just four numbers make up a 4-digit code.
Touch ID or Face ID
You can use your face id passcode or touch id passcode in addition to your newly-set iPhone passcode. Apple claims that for security reasons, the former is better, particularly if:
You switch off your phone.
You last unlocked your iPhone more than two days ago or used your passcode more than six days ago.
Your device receives an unauthorized remote lock command.
You've tried using Touch or Face ID to unlock your iPhone five times.
You try to use your iPhone's Emergency SOS feature.
You attempt to access your medical ID.
Changing the iPhone's Passcode
Choose the approach you wish to take, then hit Next.
Decide what you want your new passcode to be, then type it in again and press Done.
Verify.
All you have to do to update the passcode on an iPhone is that. To sign in after updating it, you must enter the new passcode you created.
How to lock your iPhone even more reliably
After ten failed passcodes, you can set your iPhone to erase all your data. Remember, this will delete all information, everything in the phone's storage, and all personal settings, so use this option carefully. Once the data is erased, you must either use a backup to restore it or set up the device anew.
Open Settings.
If your iPhone has Face ID, tap Face ID & Passcode.
If your iPhone has the Home button, tap Touch ID & Passcode.
Enable the Erase Data option.
Better iPhone Security
You may rapidly modify the passcode on your iPhone by following the instructions above. To be safe, we advise performing this routinely.
Bottom Line!
The iPhone has many helpful security features, such as disabling ad tracking. Additionally, we advise regularly updating your iPhone's apps to ensure you receive the most recent security and bug patches.
FAQs
Is the iPhone passcode the same as the PIN?
Apple uses a PIN (though they call it a passcode) as the initial authentication method before adding biometrics for iOS devices.
What happens when you forget your PIN on your iPhone?
If you also can't remember your required passcode when you try again, use a computer, Indeed, to put your iPhone in recovery mode.
What is my PIN for my iPhone?
Before you can change your PIN, you need to turn on the use of your PIN. The default PIN is 0000. Please note: If an incorrect PUK is entered ten times in a row, your SIM is permanently blocked.
Can you bypass the PIN lock on iPhone?
If you have synced the iPhone with iTunes on a computer, you can use that computer and iTunes to remove the passcode from your iPhone.