How to Change Amazon Country On iPhone?
Consider how you might use your iPhone to look for interesting deals on Amazon. However, Amazon.com, rather than Amazon.ca, is where you can find the offers. How do you change the Amazon country on the Amazon app for the iPhone or iPad? This article will provide an answer to your question. Find out how to quickly change the Amazon App's country setting on your iPhone or iPad.
Since Amazon is a global marketplace, it offers several languages depending on the country. If you feel uncomfortable using the app in English, you can change the language setting to the default on Amazon. Additionally, occasionally, Amazon.com may provide more exciting bargains than localized Amazon sites.
Let's learn how to modify the country on the Amazon iPhone app. The main limitation is that only some languages are available globally on Amazon. As a result, you must determine whether your location supports your desired language.
The Nation Where You're Amazon Country Account Is Located!
Even if you travel and live in another country, your Amazon account will display your home country, and it won't change. However, sure-fire telltale signs may indicate whether the Amazon app's country settings are set to the USA or another country. The most straightforward technique is to check the URL in the search bar at the top of the Amazon app.
Can I Use Your iPhone To Have an Amazon Account in Two Different Countries?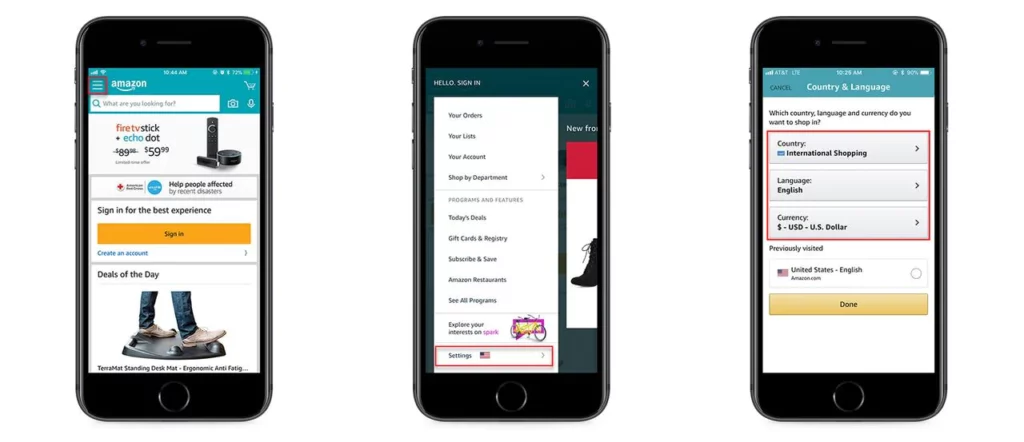 You can use the same Amazon account to access two distinct Amazon websites. Your Amazon.ca account will immediately transfer to Amazon.com and vice versa. You won't need to open a new account to shop at a local Amazon store.
Top of the Amazon App's Search Bar
As you can see in the screenshot, my Amazon app only shows Amazon, which is the US version of the website. So, you can use the Amazon app for the iPhone to find your country by looking at the Amazon domain. Here are a few local websites that offer English support:
The shopping listing may differ based on the country region settings on your Amazon app. Be careful you choose the correct country before you begin shopping.
Before continuing, download the most recent Amazon app and upgrade your iPhone to iOS 16.
Why Change the Country On The iPhone's Amazon Country App?
It's easy to switch the nation on your Amazon country account. All you need is the Amazon app on your phone, along with an active login. If you want to access information in any other language or if you want to obtain discounts from any other country where Amazon is available, you should switch your country on the Amazon app. We have demonstrated how to switch the nation from Canada to the United States.
We have shown you how to examine the offers available in the USA by changing the country from Canada. You can easily purchase things if they offer fantastic deals on Amazon because it ships internationally. On your iPhone, change the country, and you are done.
How to Modify the Language and Country in the iPhone's Amazon App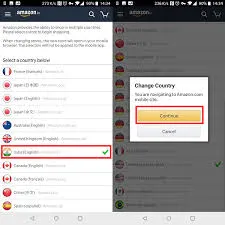 Open the Amazon app on iPhone
At the bottom right of the screen, tap the three-line menu icon.
Next, locate the Settings option by scrolling down below. Your home nation will be represented with a flag here. To make the menu larger, press the down arrow.
Select Country & Language next.
To select your favorite country, click the country on the Amazon/Region tab.
Choose your favorite language by going to the Language tab.
When finished, come back and click Done.
Why Alter The Amazon App's Default Nation And Language?
In the Amazon app on your iPhone, you can change the country to see content in a different language or get discounts from other Amazon vendors in your country. You may easily buy from them if they have great discounts on Amazon.com because some Amazon vendors ship overseas. But sometimes delivery is limited, and you might have to pay more for taxes and shipping.
Other Crucial Factors to Remember
You don't lose any purchases when you switch the nation in the Amazon app on your iPhone. You can decide whether to transfer:
Kindle books, Audible audiobooks, and Amazon Drive files membership in Amazon Prime, which includes access to the App Store, Prime Video, and Amazon Music.
If you select a different country, there are many limitations on adding Amazon properties to your account. However, Amazon will automatically switch most of your assets to the new locale and tongue on your Amazon account.
You are done now! You can look something up on Amazon in the selected language, and the entire text will be translated into the language of your choice.
Finishing Up!
You are always free to change your nation. There is no permanence regarding your area or nation, making it simple for you to move about or travel. Changing your nationality in the Amazon app is a valuable tip for everyone, especially those living abroad. Thanks to the ability to switch between countries or languages in the Amazon app for iPhone, you can now search for items with the ease of your favorite language.
How to swindle an App Store nation?
The only way to overcome these limitations is to sign up for a new Google Play Store account, hide your IP address with a VPN like NordVPN, and use a virtual card and address from where you want to access the material.
Why isn't the location of my app store changing?
How can I instantly change the area of my app store from Amazon country?
Change your region with your iPhone or iPad.
●             Launch the Settings app.
●             After selecting your name, choose Media & Purchases.
●             Click View Account.
●             Select a Country or Region.
●             Change Country or Region by tapping it.
●             After selecting your new nation or region, read the Terms & Conditions.
●             In the top-right corner, tap Agree. Then, tap Agree once more to confirm.
Can I change the Amazon country on my iPhone if I already have an Amazon account?
Yes, you can change the Amazon country on your iPhone even if you already have an Amazon account.
Can I switch back to my original Amazon country after changing it on my iPhone?
You can switch back to your original Amazon country anytime by following the steps in question 1 and selecting your original country from the list.
What happens when I change my Amazon country on my iPhone?
When you change your Amazon country on your iPhone, you'll be redirected to the Amazon website of the country you selected. The currency, language, and available products will also change based on your new country selection.