How To Use Alexa When iPhone is locked?
Thanks to a new feature Amazon released in July, you may now use the Alexa app without using your hands. While it isn't perfect, it is a significant first step in making Alexa more useful on smartphones. Additionally, it's convenient to access Amazon Echo devices remotely using only your voice. Therefore, you no longer need to tap the blue Alexa button at the bottom of the app; instead, you may say the wake word "Alexa" before speaking a voice command.
You should be given a choice to enable the new feature the next time you load the Alexa mobile app if it is already available in your copy of the app. A specific toggle in the Alexa settings makes it possible to turn off so-called "hands-free" voice activation whenever desired. Users of iOS and Android across the world are now able to use the feature. If you cannot use Alexa "hands-free" right now, check back later, as they will implement it over the next few days.
What Is Hands-Free?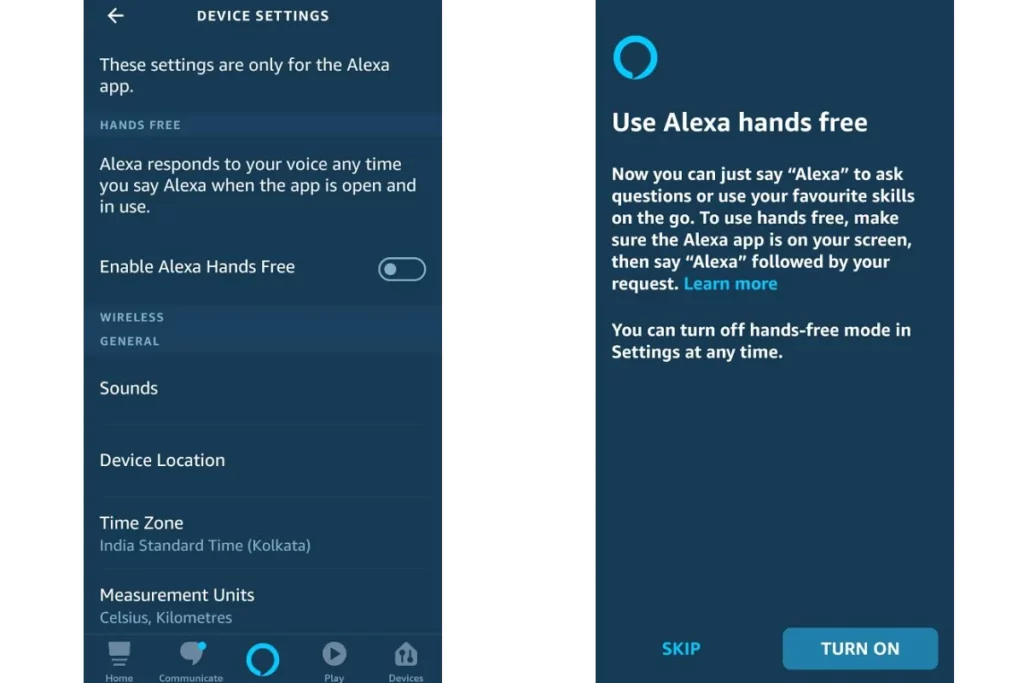 Amazon enables the "hands-free" use of Alexa intelligent assistant from within the iOS version of the Alexa mobile app.
I'm having difficulty with the hands-free portion because you cannot activate Alexa through Siri while the Alexa app isn't running, which is my definition of real hands-free voice activation.
Users can interact with Alexa on their home screen or in another app like with Siri when Apple allows third-party voice assistants to be as deeply embedded into the workings of the mobile operating system as its own Siri function.
A Few Limitations to Using Alexa When iPhone is Locked
The feature must be precisely finished, so don't get too enthusiastic. In reality, it's unlikely that customers who lock their phones automatically after the screen expires will find any use for this feature.
It would help to leave the screen unlocked to use the Alexa on your iPhone App hands-free.
To manually lock your device, you can alter the settings.
Go to Settings on an Android device and select Display.
Keep the screen on by tapping "Screen timeout."
For iPhones, select "Display & Brightness" under Settings
Toggle "Auto-Lock" to Never
Remember that the screen won't go off if you don't manually lock your phone. Additionally, if you're not using your cellphone, you should always lock the screen because anyone may access the contents of your phone.
You'll also need to keep the Alexa app active, which is another problem. You will only use the app occasionally, of course. If your phone is unlocked and already has a voice assistant set up, you can use your preferred voice assistant to open the Alexa app. The Alexa app won't need to be open if Alexa is set as your default. Both Siri and Google Assistant can be used to launch the app.
Use Alexa when iPhone is locked?
First, if you complete this process but do not have the option to enable it, you may not have the functionality yet. Since Amazon only started releasing the feature in July 2020, only some devices still support it. Consult your app store to see updates.
Additionally, if your device already has Alexa hands-free functionality activated by default, you don't need to do anything to activate this feature. Launching the app and asking Alexa a question, you may check it out. If nothing happens, it is not turned on by default.
Open the Alexa app to use Alexa when iPhone is locked.
In the bottom center, tap the Alexa icon.
Use Alexa hands-free" will be the dialog asking you to activate the new option. Just press "Turn On." To use Alexa when iPhone is locked
If you haven't already, you'll also be asked to provide Alexa access to your microphone and location.
If you choose, you may easily revoke these permissions in the future.
After that, you won't need to hit the Alexa symbol to communicate with Alexa.
To communicate, say "Alexa" or "Hey, Alexa."
You can communicate without touching anything as long as the app is open and your screen is not locked.
Advantages of Going Hands-Free
If your hands are full, such as when cooking, using Alexa when your iPhone is locked is helpful. It's also perfect if you sometimes need to check in on things at home but are otherwise occupied. You may check in remotely on your home's Echo devices using the app.
It's also helpful if your primary Alexa device is a tablet or smartphone, which works wonderfully if you no longer use an old phone or tablet. You may place the gadget in the center of your room to ask questions, play games, and more, as long as the most recent Alexa app is compatible.
Going hands-free offers certain benefits, but the limitations might prevent it from being as beneficial as possible. Most users will only seldom use the function, but it does result in more voice control and less tapping on the screen.
Conclusion
Amazon Alexa's customers can now access the intelligent voice-activated assistant without touching the Alexa button on the bottom control bar using the Alexa mobile app. However, the online retail behemoth is straining the definition of "hands-free" voice activation when it refers to this capability.
FAQs
Will Alexa work if I don't unlock my phone?
As long as the Show on Lock Screen setting turns on, Alexa will reply even when the phone is locked. Open the phone's settings, select Alexa, then toggle Show on Lock Screen to "On" to enable the Respond on lock screen feature.
How can I use Alexa without launching the app on my iPhone?
·        Swipe left to right beyond the first page of your home screen on your iPhone or iPad.
·        One of the widgets should be pressed and held until a menu appears.
·        In the top left corner, click the Plus symbol.
·        After scrolling or typing Alexa into the search bar, select Amazon Alexa.
Can Alexa operate on a locked iPhone?
In reality, it's unlikely that customers who lock their phones automatically after the screen expires will find any use for this feature. It would help to leave the screen unlocked to use the Alexa App hands-free. To manually lock your device, you can alter the settings.
Can I switch from Siri to Alexa on my iPhone?
The voice assistant from Amazon is now available for iPhone users. Use it as follows.