How To Change Your iPhone Name?
Does the name of your iPhone stand out, or does it simply say "iPhone"? Make sure the name of your phone is distinctive for a few reasons. Your iPhone's name is used in a number of apps, such as Find My, iCloud, Airdrop, and your hotspot. Changing the name of your iPhone makes sharing between devices easier and makes it easier to keep track of all your devices. Plus? Just simple, fun, custom iPhone names.
What your label says doesn't matter if you only have one Apple device. However, having multiple Apple devices and giving each one a different name makes it simpler to identify which gadget is whose. You should use good device management in the same way that you use good cable management. How to rename your iPhone is shown below. It only takes a few seconds.
Reason To Change Your iPhone Name.
Your Apple ID iPhone's name might appear private, but there are a few circumstances in which it might be made public. For instance, change your iPhone's name, as your phone's name might be displayed on the screen if you pair your iPhone with a Bluetooth accessory, like a vehicle stereo. Additionally, your phone name may appear when connected to a computer, via Airdrop, or in iCloud backups.
Perhaps you gave your iPhone an incorrect name and want to change it. Maybe you want to add a little flavor to things.
Step-By-Step Guide To Change Your iPhone Name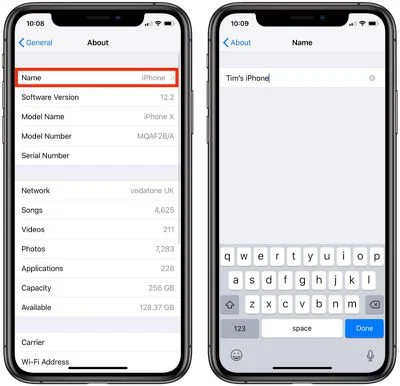 Here's how to rename your iPhone, regardless of your motivation.
Step 1:
First, Open Settings
Accessing the Settings app on your iPhone home screen is the first step you should take to change your iPhone name. If you can't find the app on your home screen, you can also use your phone's search feature by swiping down in the center of the screen. You may locate the settings app by entering "settings" into the search field.
Step 2:
Now Select The General Option
Your iPhone's settings app should open with a tab labeled "General." This tab contains several settings related to your phone.
Step 3:
Now Click The About
Once you've reached the General menu, select "About." You can find details about your phone on the About page, including the serial number. You can also modify the name of your iPhone on this page.
Step 4:
Go For The Name Option
Click on the name once you've reached the About screen to modify the name of your iPhone. In front of the present name, choose the x. Now, this is the time to change your iPhone name.
Step 5:
Change The Old Name With New One
You can now alter the name of your iPhone or set up your iPhone after selecting the Name tab. To preserve the new name for your iPhone, choose "done." There you have it, then! It's easy to change the name of your iPhone, whether you want something more specific or covert.
The update takes place almost immediately after changing the device's name. For example, you may see the new designation right away on iCloud. You won't ever have a problem where an app or gadget gets twisted when aiming the old name. Also, you can alter the name as much as you desire.
Change Your iPhone Name With iTunes Option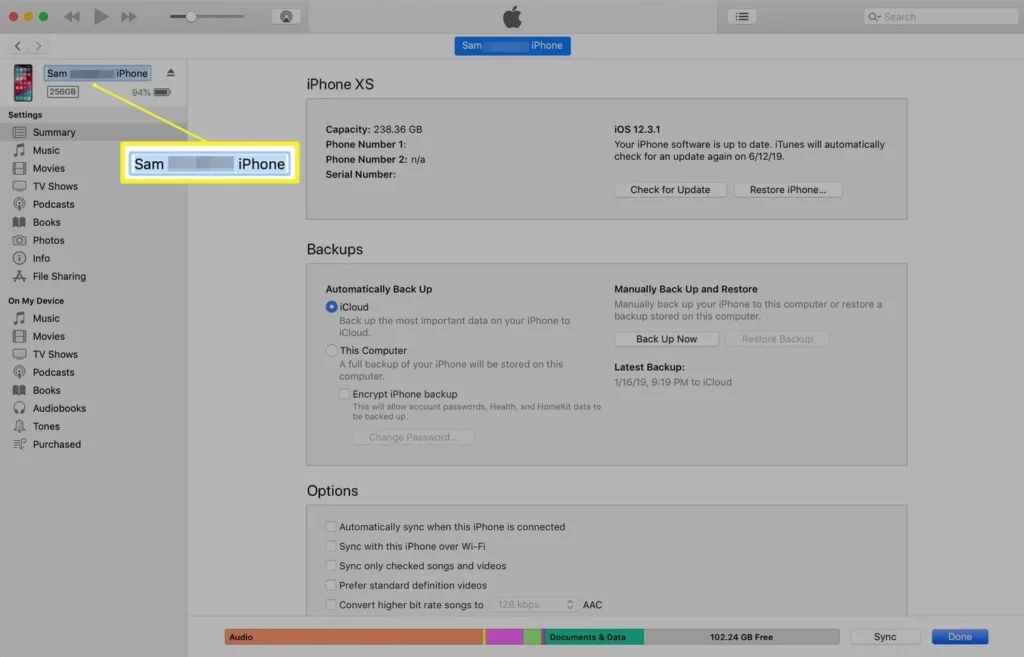 Your iPhone's name can be modified by syncing it with a computer via iTunes. To do this, follow these steps:
Step 1
Your iPhone must connect your iPhone to the computer you use to sync it. If iTunes doesn't launch automatically, launch iTunes then.
Step 2
Click the iPhone icon in the upper-left corner to access the iPhone administration screen.
Step 3
Click on the left pane to select your iPhone's name.
Step 4
Enter the preferred new iPhone name next to the old name.
Step 5
You can easily do this by opening iTunes. iTunes re-syncs the phone automatically, storing the new iPhone name.
You can easily do this by opening iTunes.
The Places Where You See Your Name
You won't frequently see your iPhone name, which has little bearing on your use. The only places where the name "iPhone" is likely to appear are apps on your iPhone, as follows:
Utilizing iTunes to sync:
While you sync through iTunes, you may see the designation of your iPhone.
You may need to rename your iPhone if you have established a personal hotspot connection.
To use the iPhone's hotspot function, enter the name of your iPhone when attempting to connect. If you frequently commute and use the feature, you've seen other folks who have amusingly named their iPhone; "FBI surveillance van," which appears to be a popular choice.
Find My iPhone is sung:
Choose the name of the phone to track it if you need to utilize Find My iPhone to look for a lost or stolen device.
Operating Airdrop: Your iPhone designation will seem when somebody directs you a file over Airdrop and your term isn't in their Associate's list.
Watching An Online Apple ID:
The online Apple ID account lists all the active devices linked to your Apple ID. There is a name for each of these gadgets.
You Can Do More Customization
The first step in your iPhone customization quest is renaming your device. Make sure to adjust the Control Center and AirPods settings as well. To take advantage of automated routines on your iPhone, examining shortcuts on your iOS device is a good idea.
Lastly
As summed up on this topic, we have seen the easy way to change your iPhone name. Now make your iPhone name more attractive by making some little changes.
FAQs
Does Apple Limit What the Name of the iPhone Can Be?
It appears that there are no limits. However, it's preferable to maintain the name as briefly as possible for convenience reasons.
How is the iPhone Reset?
Make a backup of your data before resetting your iPhone to factory settings. Then you must select Erase All Content and Settings under Settings > General > Reset. Choose Erase and enter the passcode.
How do I edit my location name on my iPhone?
Open the Find My app, then select the Me tab. Scroll down and tap Location. Select Home, Work, School, Gym, None, or tap Add Custom Label to create your name.
Read Also: How to change the iCloud Apple ID on iPhone Without a Password?