How to Change Fingerprint On iPhone?
Apple first launched Face ID with the release of the iPhone X in 2017, and it has since been available on all the company's most recent flagship devices, along with the iPhone 12 and iPad Pro. While the most recent iPad Air (2020) and iPhone SE (2020) still employ the fingerprint scanner, many iPhone and iPad models continue to use Touch ID and Face ID.
With Touch ID, you can easily unlock your iOS device, utilize Apple Pay to make payments, and increase security when entering sensitive data like password autofill. You should adjust it if your fingerprint needs to be identified quickly enough to unlock your device or if you initially set up a touch ID sensor with the incorrect finger.
How to Modify Your Fingerprint on an iPad or iPhone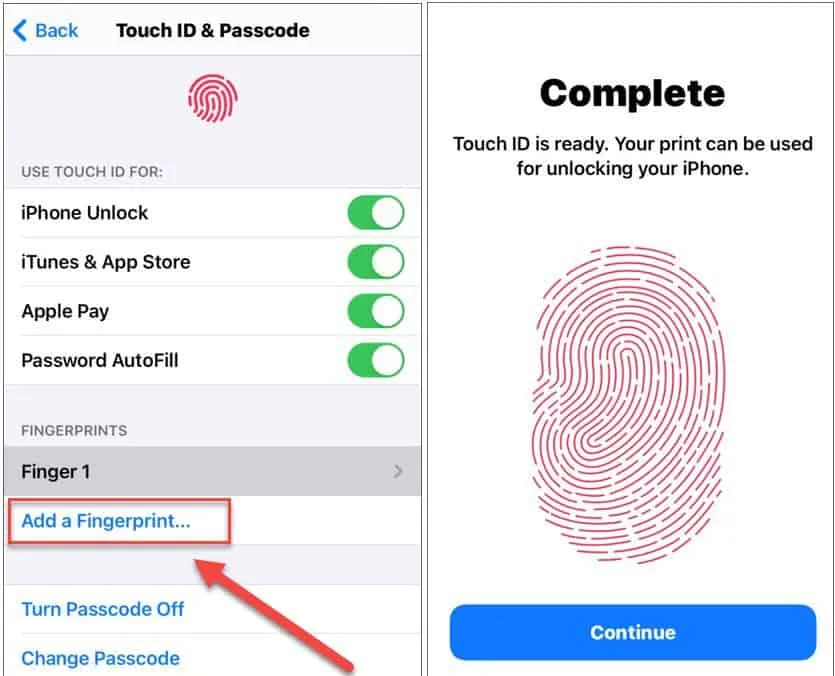 The fingerprint reader is located on the Home button of every iPhone that supports Touch ID. This comprises iPad Mini iOS gadgets made after the iPhone 5s. This is also present on iPads with a Home button, except the iPad Air 2020, which has Touch ID integrated into the side power button. The following technique can be used to replace your fingerprint on an iPhone or iPad:
Launch the Settings program.
To "Touch ID and Passcode," scroll down.
Put in your passphrase.
To edit or remove a fingerprint, tap on it.
Select "Remove Fingerprint"
Make a new fingerprint recognition by tapping Add a fingerprint and following the on-screen instructions.
To that end, you can also use the fingerprint option to erase a fingerprint to simplify the process. To make remembering which finger has been designated to unlock their device simpler, users can rename their fingerprint and set up Touch ID under the Touch ID settings.
Apple also allows customers to add up to five fingerprints, allowing them to use whichever finger in either the left or right hand is most practical. Please be aware that enrolling new prints may result in a little delay in fingerprint identification.
Use a Method Other Than Touching the Touch ID Sensor to unlock your iPhone and iPad
Users of iPhones and iPads don't need to press the home button to unlock their smartphone (or the side button on the iPad Air 2020). They can alternatively place their finger upon that Touch ID sensor.
Launch the Settings program.
Go to the "Accessibility" page.
On the iPad Air 2020, go to the "Home Button" or "Top Button."
Set "Rest Finger to Open" to "On."
This is turned on immediately on the iPad Air 2020, but it might be off on other iOS devices. It's a quicker way to get to your device.
Future iPhone and iPad models might still use fingerprint recognition to unlock your iPhone, even if Face ID has replaced Touch ID in the newest Apple products app store.
Tips for Fingerprint Scan for Touch ID
Do the following to ensure that your fingerprint is scanned correctly:
Regardless of how you often handle your iPhone when lifting it, you will choose the finger and settings for the Touch ID passcode you want to scan. You should probably use your thumb or fingers. Up to five other fingers may be added afterward.
Instead of pressing the Home button, softly place the fleshy portion of your finger to adjust your grip to initiate a scan.
Lift Youger off the Touch ID scanner when the smartphone vibrates, then firmly push it down.
Repetition is critical; try putting your finger on the scanner at various angles or slightly different positions each time. You have greater freedom in resting your finger while using Touch ID. Later on, the more thoroughly your fingerprint is scanned. The red lines on the on-screen fingerprint show your progress. The scan is more accurate the more red lines you see.
After the initial scan, the iPhone asks you to scan one's finger's edges. Repeating the previous procedure, using your finger's top, sides, and other edges to achieve the best scan.
Activate Fingerprint Recognition
Go to Settings > Touch ID & Passcode if you didn't enable fingerprint recognition when setting up your iPhone.
Turn any of the choices on, then adhere to the directions displayed on the screen.
Whenever you complete your first buy from the iTunes app store, Apple Books, or the iTunes Store after turning on iTunes & App Store, you will be prompted for your Apple ID password. You're prompted to use Touch ID when you make your subsequent purchases.
Note: Refer to the Apple Support article. If Touch ID isn't performing, you cannot add a fingerprint or use Touch ID to unlock your iPhone.
Adding Touch ID to Apps
Touch ID will instantly be activated for iPhone Unlock, Apple Pay, iTunes, and App Store transactions once you've entered your fingerprint. Disable any options you don't want to utilize Touch ID for under Use Touch ID For. You can also delete a fingerprint by tapping delete fingerprint.
Multiple Users: iPhone and iPad Different Fingerprints
If you wish your significant other or family members could access your iPhone or iPad, you could also add a fingerprint on their behalf. For each person, repeat the previous steps while selecting Add a Fingerprint. You should label them to track who is using your device.
How Do I Refresh My Fingerprint on My iPhone?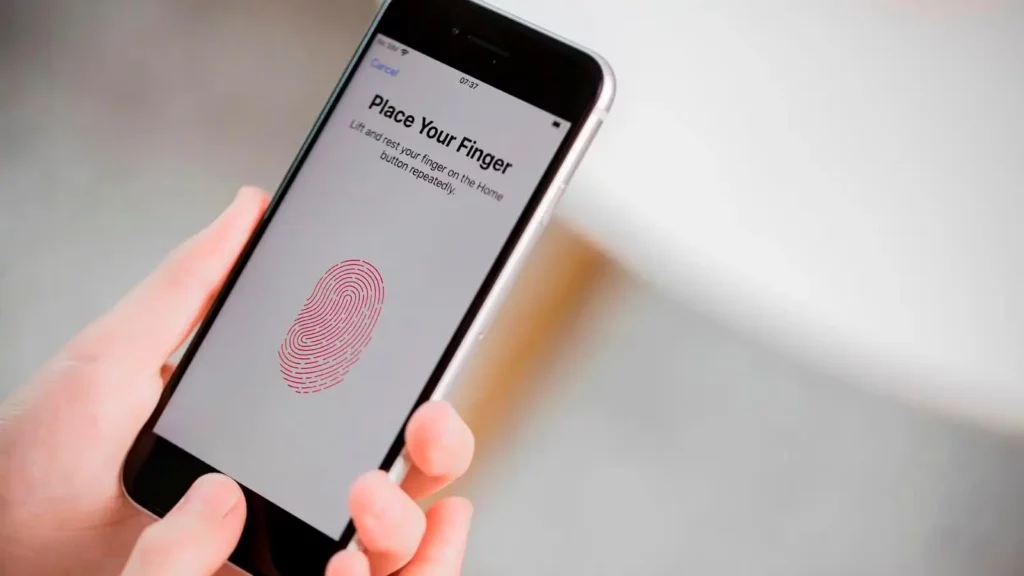 To refresh your fingerprint on an iPhone, you can follow these steps:
Open the "Settings" app on your iPhone.
Scroll down and tap on "Touch ID & Passcode" (or "Face ID & Passcode" on newer models).
Enter your passcode to proceed.
Under the "Fingerprints" or "Fingerprints & Passcode" section, you should see a list of currently registered fingerprints.
Select the fingerprint you want to refresh by tapping on it.
Choose the option to delete or remove the fingerprint. This option may vary depending on your iPhone model and iOS version.
Once you've deleted the fingerprint, tap "Add a Fingerprint" or a similar option.
Follow the on-screen instructions to register a new fingerprint. Place your finger on the Home button (or the side button on newer models) and lift it off repeatedly until your fingerprint has been scanned from multiple angles.
After you have finished scanning your fingerprint, tap on "Continue" or a similar option.
You can repeat the process to add additional fingerprints if desired.
Once you have finished adding fingerprints, exit the settings, and your new fingerprint(s) should be saved and ready for use.
Remember to use a clean, dry finger when registering your fingerprint, and ensure that you cover the entire sensor area to improve accuracy and recognition.
Finally
On some Mac models, you can additionally add a MacBook fingerprint. Does the iPhone 12 feature Touch ID? This is a common question. Unfortunately, Face ID is only available on iPhone X and subsequent devices that do not have a Home button.
Using the fingerprint sensor, you can now activate Touch ID on the iPad and iPhone! Remember that Touch ID won't function if you wear gloves or if the iPad's screen or Home button is damp. If that happens, you can still use the passcode to enter your device. Do you have a question about Touch ID's malfunction? It's conceivable that you disabled it momentarily, but fixing that issue is simple through on-screen instructions.
FAQs
How do I locate my iPhone's fingerprint password?
·         In Settings, you may see saved passwords and passkeys.
·         After selecting Settings, tap Passwords, choose Passwords & Accounts, and then touch Website & App Passwords in iOS 13 or before.
·         When asked, use Face ID or Touch ID or type your passcode.
·         Choose a website or app to view a password.
How many times have iPhone passcodes been used?
Six incorrect passcode entries in a row will lock you out of your smartphone and display a warning stating that your iPhone is deactivated. If you can't remember your passcode, you can reset a new one after wiping your iPhone clean with a computer or in recovery mode.
How do I delete an existing fingerprint on my iPhone?
Open the "Settings" app, go to "Touch ID & Passcode" (or "Face ID & Passcode"), enter your passcode, and select the existing fingerprint. Look for the option to delete or remove it, and confirm the deletion.
Can I change my fingerprint to someone else's on my iPhone?
No, you cannot change your fingerprint to someone else's on your iPhone. Fingerprint recognition is unique to each individual, and modifying your fingerprint to match someone else's is impossible. Each person needs to register their fingerprint on their device.
How many fingerprints can I store on my iPhone?
The number of fingerprints you can store on your iPhone depends on the model and iOS version. Most iPhones allow you to save up to five fingerprints, but newer models may support more. Check your device's specifications to confirm the exact limit.