How to Clear Facebook Cache On iPhone?
If your Facebook app often doesn't work right or takes up a lot of space on your iPhone, it's time to clear the cache. Clearing the Facebook cache on your iPhone will improve the app and save space on your device. Additionally, it is secure and won't remove your Facebook account's settings and data. By following the instructions in this article, you may delete the Facebook cache on your iPhone in two easy ways.
What Takes Place When the Facebook App Clears Cache?
The largest misconception about clearing the Facebook cache on iPhones is that doing so will result in losing personal information. But there's no need for that. By deleting the background data from the Facebook mobile, you can avoid several in-app problems, including the slow app on iPhone.
There is no need to be concerned because even if posts take longer to load, they will still be as current as when you initially opened them. Let's discover how to erase the cache on your iPhone for your Facebook account without wasting more time.
How to delete or Clear Facebook Cache on iPhone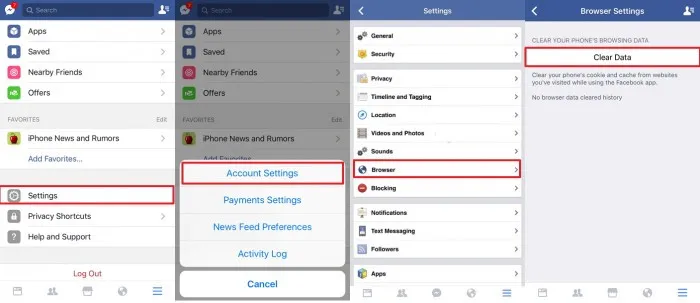 By doing so, you can delete the cookies and cache data that your iPhone has stored from websites you've visited while using the Facebook mobile browser.
Steps to make sure!
Step #1: Launch your Facebook account on your iPhone or iPad from the app store.
Step #2: Tap Facebook Settings (three horizontal lines in the bottom right corner of the screen), scroll down, and select Settings app.
Step #3: The "Settings & Privacy" popup will appear in step three. Then select Settings.
Step #4: Scroll the screen and select Browser from the Permissions section.
Step #5: Select the clear Facebook cache on iPhone option next to your browsing data.
Therefore, you may view the Last Cleared time and date on the Facebook app screen on your phone.
How to Remove Facebook's Documents and Data from an iPhone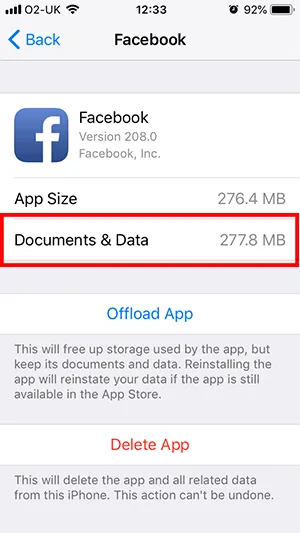 Two choices will be displayed on the screen:
Offload the app and remove it.
Delete the Facebook app only but keep all Facebook app data and temporary files. After reinstalling the software in the future, you can reuse and replace all of the settings.
This option will instantly delete the app and all your Facebook data.
Log activity management:
Clear the History of search history from the activity log, and tap the search bar to access the app's account.
Delete the Activity Log and Search History from the Facebook app for iPhone and iPad.
You can then update your most recent searches or past activity log history.
Method 1: Delete Facebook App Cache Directly On iPhone
The first option involves going straight to the Facebook App's settings and cache removal to make more room on your iPhone. Here is a full explanation of how to clear Facebook's cache files.
Methods for clearing the Facebook app cache from the Facebook App.
Open the Facebook app on your iPhone.
The Settings page will be opened after you tap the More button at the bottom right corner.
Click Account Settings, then click Browser.
To erase the cookie and cache from browser cache websites you visited while using the Facebook app and by browsing data, click Clear Data at the bottom of the page.
How to Use the Settings App on Your iPhone to Clear Facebook Cache
The Settings app after unlocking it.
Access Facebook by going to "General" > "Usage" > "Manage Storage."
Select "Delete App" from the menu to remove Facebook from your iPhone.
After removing Facebook from your iPhone, install it from the iTunes App Store.
Method 2: Using Syncios iOS Eraser, Clear Facebook Cache On iPhone In One Click
Other third-party apps and Facebook take up more storage space than they should. We suggest you use Syncios iOS Eraser to delete all of these files from your iPhone, including Facebook caches. You may thoroughly examine your Facebook cache on your iPhone and all of its cache data with just one click with this iOS data remover.
Key attributes of the free iOS Eraser from Syncios
Choose from four cleaning options based on your needs. Erase deleted files with a single click; erase private data; to securely and completely delete data as needed, use the Erase All Data option, including deleting apps.
View the data before choosing
Avoid losing crucial data by selecting the precise files you wish to delete and previewing the data first.
Utterly destroy data, preventing even the most advanced recovery tools from recovering it.
Additionally, previously deleted files can be located, and the application will permanently destroy them to preserve your privacy.
Supports all iPhone-specific iOS file types.
Can I Delete The Facebook App Data?
Most of the time, experts advise clearing the Facebook cache on your iPhone once a month. This will prevent overloading of the storage and help to resolve several issues, including posts that need to be appropriately displayed and posts that need to be uploaded to Facebook.
Because those data are kept in the background, they deteriorate Facebook's performance over time and become contaminated. Therefore, clearing the cache for the Facebook app is a good course of action. At the same time, there won't be any loss of Facebook profiles, videos, or posts after clearing the cache.
Bottom Line!
Our blog post made clearing the Facebook cache on your iPhone easier. Like it and share it for more information and assistance!
FAQs
Exactly how can I have Facebook clear its cache?
After descending, select Settings & Privacy. Select Settings. Tap Browser in the Permissions section after scrolling down. To delete the cache for your app, choose Clear under Browsing Data.
What occurs when I clear the cache on the Facebook app?
After clearing the cache, your login credentials and other temporary files will be deleted from the app. You'll have to log back into your Facebook account.
Facebook's cache is cleared how frequently?
This is so that future queries can be processed more quickly because social media uses a cache mechanism (usually refreshed every 30 days) to retain a site's metadata. The data kept in a cache is frequently out-of-date since it may be a copy of data maintained elsewhere or the result of an earlier computation.
How do I reset my Facebook app on my iPhone?
To clear the Facebook app's cache on your iPhone, you can head into the "Settings & Privacy" menu to clear its browser cache and delete and reinstall the app to fully clear its cached data.