How to Use an iPhone for Beginners?
iPhones are the most popular and widely used mobile devices today. These days, iPhones are more of a status symbol than just a phone. People prefer them over every other phone. People are now shifting from other Android phones to iPhones. They might have trouble setting up their iPhones, but that isn't a big deal. Here is a quick guide for setting up your iPhone and iOS devices.
How Do We Set Up to Use an iPhone?
One of the most confusing things for users is setting up their phones. Some people get confused with the newly launched lock screen that stays active all the time, but it is not something to worry about. It does consume more battery. Here is a friendly user guide on how to use your iPhone.
Step 1: Settings App is Easier than Ever Before
One of the most complicated things about the iPhone for new users is the settings of the apps. Some applications are built-in; you can get the rest from the app store.
Step 2: Power on Your iPhone or iPad
Hold the effective power button to turn on the iPhone until the Apple logo appears. After that, you will see "Hello" in many languages. Follow the onscreen instructions to get started. You can also turn your iPhone on and off from the options on the home screen. You can also press the home button.
Step 3: Quick start your iPhone manually
Users can use the quick start option to set up the device from another Apple device. You can do so to save yourself the hassle of manually setting up the whole device. It is a more advanced technique.
Step 4: Set Up Your iPhone manually
You can set it up manually if you own an Apple device.
Step 5: Activate the Apple device
If your device is connected to a Wi-Fi or cellular network, activating and configuring it will be simpler. Tap the Wi-Fi network you also want to use or, if available, tap Continue without Wi-Fi to use your device's cellular network. If you're also setting up an iPhone or an iPad (Wi-Fi + Cellular), you might need to insert your iPhone SIM card or iPad SIM card first.
Step 6: Set Up Face ID & Touch ID on Your iPhone
If you want to set up your Face ID or Touch ID, go into the settings and open the required option. After that, you must follow the instructions on the screen; You can also set up your fingerprint ID similarly.
Step 7: Create a Passcode for Your iPhone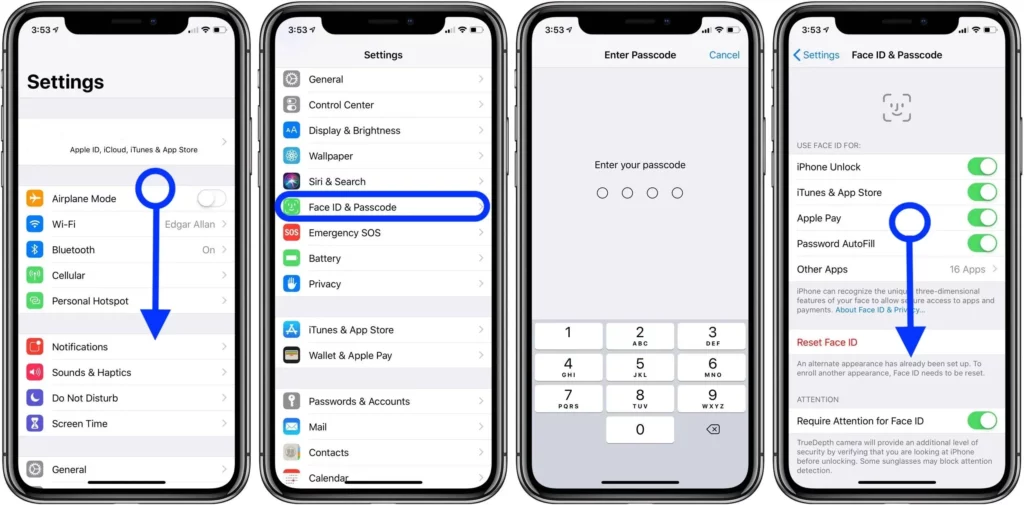 One of the most important aspects is to set up a passcode for situations where the face recognition of Fingerprint ID does not work. Another thing that you will need a passcode for is your features like Face ID, Touch ID, and Apple Pay. You can choose the passcode of your choice, but you have to make it a stronger one.
Step 8: Restoration of iPhone
You can transfer the necessary data from your old device to your new one or restore your iPhone as you see fit. You can also use iCloud for an excellent backup on your computer or move data from an Android device. There are innumerable options for backup. If you do not have another backup Apple device, do not select the Transfer Apps and Data option. Other than that, everything is quite simple.
Use iPhone-Response to Phone Calls
One of the most important things to know about using an iPhone is how to decline and attend phone calls. For iPhone users, there are numerous options for answering phone calls. If you are switching from Android or other phones to iPhones, here is a guide on how to do so. Here's how you can do so.
If you want to attend the call, then drag the green icon.
If you're going to decline the call, then drag the red icon.
To send the call to voice mail, click the red icon and not drag it.
You can also choose to remind me in case you are busy or between meetings.
Advantages of iPhone Over Android
The iPhone has many advantages over Android, which will be discussed here point by point.
The interface of iPhone and other Apple devices is straightforward and understandable. On the other hand, it gets challenging to configure apps in Androids, and sometimes people get them wrong.
The accessories for iPhones are more, and they are available everywhere.
The settings are easy and accessible. You can change the settings anytime you want to.
Many users require unique accessibility options, which the iPhone offers. There are many Low-vision users and users with less accurate motor functions. These people tend to love the iPhone's wide variety of accessibility features.
iPhone now has Office 365, which means you can do all your work from your mobile phone.
The best part about iPhone is that it has fewer security breach chances. This is so because security breaches are the least.
You get a lot of storage space with the iPhone, and the store mentioned and advertised, including Built-in app storage.
The camera features of the iPhone are world-famous.
Most people film their vlogs with an iPhone camera. So, if you are also looking for a good camera, the iPhone is the one you need.
Which Budget iPhone is Best in 2023?
When looking for a budget iPhone, you should consider the following factors:
Price:
Look for a model that is affordably priced and fits within your budget.
Display:
Ascertain that the display is of high quality and resolution.
Camera:
Check for the number of cameras and their quality.
Battery life:
Look for a model with good battery life and fast charging capabilities.
Performance:
Check the phone's processor and how well it runs apps and games.
Storage:
Check if the phone has enough storage for your needs
Software:
Consider the version of iOS that the phone runs on and if it will receive regular updates.
It's worth noting that, generally, older models tend to be more affordable, and they are still a good option if they meet your needs.
Please remember that your budget and needs may vary, so it's important to research different options and compare them before deciding.
Wrapping It Up!
Every iPhone user needs to know how to use an iPhone correctly. If you don't know it all, then you might use it in the wrong way. All the important things about using the iPhone are mentioned above. You can learn from them and apply them all over your phone.
Frequently Asked Questions
Here are also some of the frequently asked questions.
Is there any affordable option to buy iPhone?
In Apple, iPhone SE (special edition) was launched during a pandemic, and it is one of the most affordable options for buying iPhones with a budget.
Is the battery life of the iPhone good?
Is iPhone secure to use?
iPhones have the most Top-Notch security features, which is why the security breaches are the least.
How do I get the Apple User Guide for free?
Open the Books app. Tap Search, tap the search field, then enter "iPhone User Guide." Tap Get, then wait for the book to download.